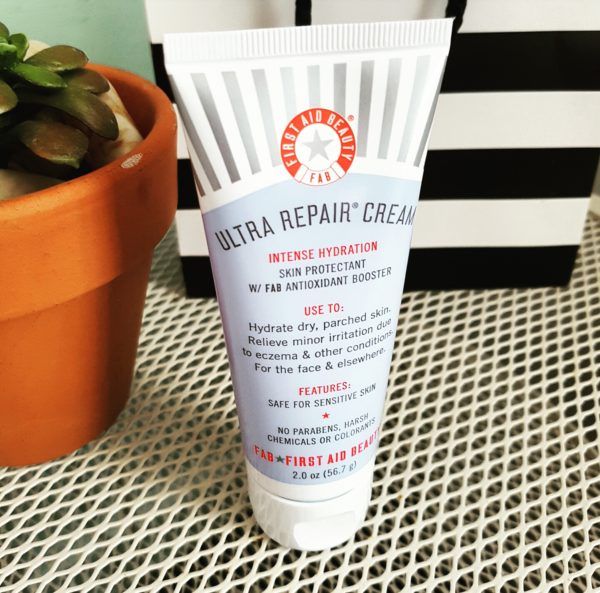 Hola corazones, hoy les preparé este post porque quiero compartir con ustedes otro de mis favoritos de belleza. Durante el invierno nuestro rostro se expone igual que en verano a muchos factores que afectan notablemente nuestra piel como el clima frío y los vientos provocando resequedad, puntos negros y más cosas, aunque no lo crean aún cuando no hay sol en invierno siempre uso mi bloqueador solar, nunca salgo de casa sin ponerlo en mi cara y cuerpo, este es otro de los consejos que les doy, recuerden que el cáncer de piel cada día es más común. En fin, todas las mañanas uso además de mi bloqueador solar, mi crema facial en el rostro y cuello, esta crema desde que la uso me ha salvado, sobre todo de la resequedad sin hidratar demás. Se las recomiendo, yo la compro en Sephora y tienen presentación de viaje que llevo conmigo cada vez que salgo de la ciudad. Esta crema facial la puedes usar para hidratar la piel seca, para la piel manchada, para aliviar las molestias menores debido a eczema, es súper segura para piel sensible, yo tengo la piel blanca y nuestro tipo de piel es muy sensible así que se las recomiendo. No trae parabenos, productos químicos ásperos o colorantes.
Ustedes ¿procuran cuidar su cara?, ¿cada cuanto lo hacen? ¿diariamente?, me temo que no estamos acostumbradas y mucho depende de la constancia, así que les suplico procuren lavar bien su cara, usar una buena crema que no significa que sea cara sino la mejor opción para su piel y eso sí un bloqueador solar, lucirán mucho más lindas de lo que ya son, con una piel sana y reluciente.
Les mando besos de jueves, ya casi viernes, eso me encanta!!!….Liz.
---
Hello sweethearts, today I prepared this post because I want to share with you another of my favorites of beauty. During the winter our face is exposed as in summer to many factors that affect our skin notably, cold weather and winds cause dryness, blackheads and more things, believe it or not even is there is no sun during the winter I always use my sun block, I never leave home without putting it on my face and body, this is another advice I give to you, remember that skin cancer is more common everyday. Anyway, every morning I use in addition to my sun block, my facial cream on the face and neck, this cream really safe my life!, especially with respect to dryness without over moisturizing. I really recommend it, I buy it in Sephora and they have the travel size presentation that I take with me every time I leave the city. This facial cream can be used to hydrate dry, parched skin, to relieve minor irritation due to eczema and other conditions, this is safe for sensitive skin. It doesn´t  have parabens, harsh chemicals or colorants.
Do you try to take care of your face daily?, I am afraid you don´t do it and much depends on constancy, so I beg you to try to wash your face very well, use a good cream, it doesn´t mean that has to be expensive, it has to be the best choice for your skin and please use a sunblock, I promise that you will look more beautiful than you already are with a healthy and shiny skin.
I send you a tons of kisses, almost friday and I love it !!!….Liz.