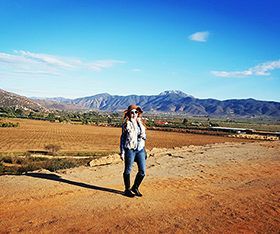 Highlights
ENSENADA I EL REY SOL RESTAURANT I MANZANILLA RESTAURANT I RUTA DEL VINO I
L.A. CETTO WINE HOUSE I DECANTOS WINE HOUSE I VIÑA DE FRANNES WINE HOUSE
Visitar la Ruta del Vino en El Valle de Guadalupe en Ensenada, Baja California, México, es el perfecto marco para degustar del mejor Vino y una comida deliciosa. Este lugar es un paraíso, inmediatamente llegamos al Puerto de Ensenada y nos dejamos cautivar por un maravilloso atardecer de película.
Ensenada es el 2do puerto más importante que recibe cruceros en México además de una gran cantidad de empresas que exportan a muchos países sus productos. La comida ni se diga, es deliciosa y aquí se encuentra el Famoso Restaurant Manzanilla del Chef Benito Molina del programa Master Chef, un lugar a media luz, diseño vintage-contemporáneo para pasar una velada con la mejor compañía. Si de postres se trata, no dejen de visitar el restaurant El Rey Sol, famoso por su repostería fina, yo no aguanté la tentación de una tarta de pera rellena de crema de almendras.
La visita al Valle de Guadalupe para hacer la ruta del Vino es obligatoria. Nosotros visitamos 3 de las casas más importantes, L.A. Cetto que es la vinícola más grande de México, Decantos inigualable vista y Viña de Frannes, todas con unos vinos excelentes que no le piden nada en el mundo, toda una experiencia. SI tienen oportunidad de hacer este viaje no se van arrepentir. Ver todo el valle, admirarlo con un buen vino o una tabla de quesos de la región, relajarte y simplemente admirar los viñedos y el atardecer…..te quitará el aliento.
Buena manera de comenzar el 2017, cuando ves todo esto realmente te das el tiempo de agradecer.
Gracias por compartir corazones, los quiero….Liz.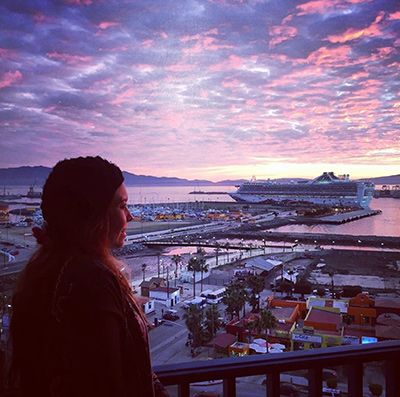 Visit the Valle de Guadalupe in Ensenada, Baja California, Mexico, it is an amazing experience, this is the perfect spot to enjoy a exquisite wine and a delicious food. This place is a paradise, we immediatly arrived to Ensenada and were captivated by a wonderful sunset.
Ensenada is the second most important port in Mexico that receives Cruises, also has many companies that export their products to all the world. The food is wonderful, here in Ensenada is The Manzanilla Restaurant by Benito Molina from Master Chef show. a very confortable place with lovely candles with a vintage touch. If you want to taste the best pastries of the city you have to visit El Rey Sol restaurant, is a tradition in Ensenada, I couldn´t say no to a pear tart with almond cream.
If you go to Ensenada, it´s a must to do the Wine Route in the Guadalupe Valley. We did the tour through 3 of the most important vineyards, L.A. Cetto that is the biggest wine house in Mexico, Decantos and Viña de Frannes, each one has their own vision, beauty and wines that are better than any other in the world. If you have the opportunity to do this trip you will never regret. See the whole valley, admire it with a glass of wine or with a special cheese from the locals, relax and admire the vineyards and sunset…it will take your breath away.
It´s a good way to begin this 2017, don´t you?, when you see all this beauty, it´s time to say thanks!!!
Thanks for share during this years sweethearts …love you all….Liz.