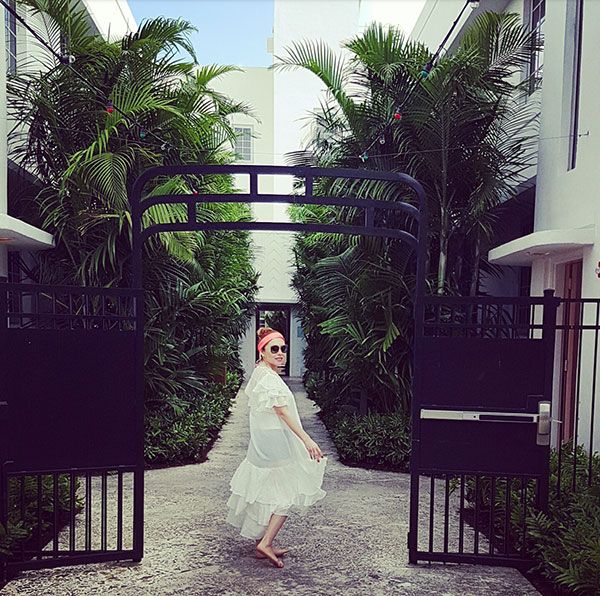 Ya estamos de vacaciones, disfrutando seguramente del sol, arena y mar o para aquellos que sólo descansan en casa sin el ruido cotidiano de los autos y simplemente en familia, creo que es perfecto. Ya saben que a mi me encanta viajar y como siempre Miami te permite disfrutar y relajarte al 100. Este hotel boutique es encantador y su jardín me recuerda a una jungla jaja si ya sé, que loco!!, en fin por lo pronto nos relajamos y disfrutamos de este maravillo momento, las fotos mi esposo las tuvo que tomar jaja pero él encantado, eso creo yo!. Cuando vengan a Miami no olviden este lugar, en este jardín por las tardes-noches abre el bar y el ambiente es genial, la entrada es para el público en general, te conquistará. El outfit, un hermoso Caftán de Ary Marrufo, lo amo!!, ella tiene unos diseños preciosos y diferentes. Esta diseñadora Mexicana apuesta por los diseños únicos, su nueva Colección está inspirada en Africa, me encanta!. Gracias Ary, creo que este caftán se dejó llevar y nos dio su toque chic, perfecto para unos instantes en la jungla. Disfruten sus vacaciones donde quiera que estén cariños!!, gracias a dios después de una terrible gripe pude reponerme y me tienen de vuelta.
Besos playeros!!…Liz.-
---
We are already on vacations, surely enjoying the sun, sand and sea, or for those who only rest at home without the daily noise of the cars and just want to pass the time with the family, I think is perfect. You know that I love to travel and as always Miami allows you to enjoy and relax 100 percent. This boutique hotel is lovely and its garden reminds me a jungle, hahaha I know, it is a little bit crazy!, but at the end we relaxed and enjoyed so much this moment, my husband took the pictures, I think he had much fun. When you visit Miami, don´t forget to visit this hotel, this place has a garden an in the evenings the bar is open to all the people, you will love it. About the outfit: I´m wearing this lovely Caftán by Ary Marrufo, she has beautiful designs. This Mexican Designer always bet for uniques designs with a special style, her new collection is inspired by Africa, I love it. Thank you Ary, I think this caftan give us a chic touch, perfect for a few moments in the jungle. Enjoy your vacations wherever you are loves. Thank to God after a terrible flu, I could recover my self and now you have me back.
Kisses….Liz.
HOTEL THE HALL SOUTH BEACH HOTEL MIAMI   I   OUTFIT: CAFTÁN BY ARY MARRUFO MX