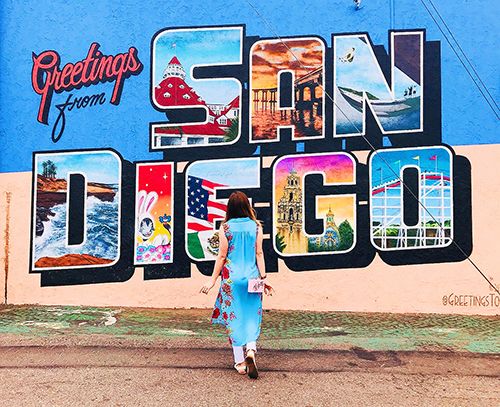 Guapuras ¿cómo los trata este día?, espero que genial porque yo además de estar contenta moría por contarles de mi viaje a San Diego, pero se dio la oportunidad de viajar con mis amigas además de la visita que hice con mi familia y no dudé en esperarme para complementar este post con mis must y mi recap de esta grandiosa ciudad que tiene puras buenas vibras y se me hace una de las mejores ciudades de California. San Diego es una belleza, tiene un clima fenomenal, tiene playa, arte, cultura, diversión, colorido e historia, un destino que tienen que visitar algún día, así que aquí les va mi recorrido y las fotitos que pude hacer para todos.
Hi my lovies, how are you today? I hope it's great because I´m so happy and I was dying to tell everybody about my trip to San Diego, but I had the opportunity to travel first with my family and then with my friends and I did not doubt in complement this post with all the things we did, so I´m sharing with you my recap from this great city that has pure good vibes and for me is one of the best cities in California. San Diego is a beauty, it has a phenomenal weather, it has beach, art, culture, fun, color and history, a destination that you have to visit someday, so here is my route and the pictures I did for you guys.
En 4 días pueden recorrer lo más importante de San Diego, claro que es una ciudad que tiene tantas cosas, que tienes para largo pero de lo que más disfruté y lo que recomiendo no se deben perder está aquí.
In 4 days guys, you can visit the most important part of San Diego, of course it is a city that has so many things that you never will be bored, here are my favorites that you can´t miss it.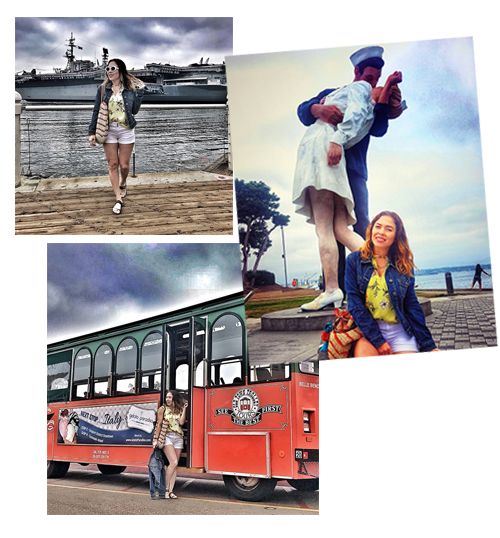 1.- HACER UN RECORRIDO POR LA ZONA DEL MUELLE Y EL MIDWAY MUSEUM. No se pierdan este museo que reúne mucho de la historia de los Estados Unidos y del Mundo.
1.- VISIT THE MIDWAY MUSEUM AND WALK AROUND THE DOCK. Don´t miss this museum that has a lot of history about the United States and the World.
2.- TOMARTE LA FOTO EN LA EMBLEMÁTICA ESTATUA DEL BESO. Está basada en la famosa fotografía de Alfred Eisenstaedt en Times Square, Nueva York, que inmortalizó el beso entre un marinero y una enfermera para celebrar el día de la victoria de la Segunda Guerra Mundial.
2.- TAKE THE PHOTO IN THE EMBLEMATIC STATUE OF THE KISS. It is based on the famous photograph by Alfred Eisenstaedt in Times Square, New York, that immortalized the kiss between a sailor and a nurse to celebrate World War II victory day.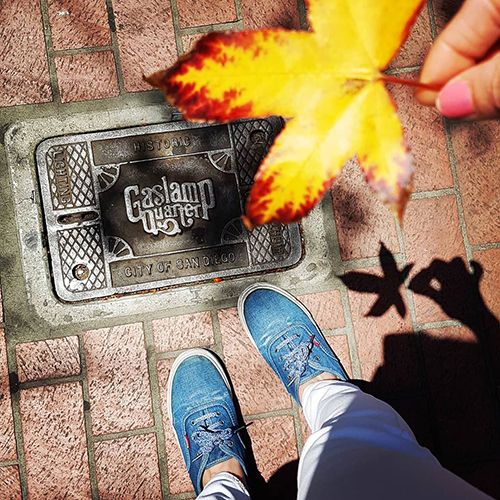 3.- RECORRER EL CENTRO DE SAN DIEGO. Si vas a San Diego y no caminas sus calles del centro, créeme no fuiste a esta ciudad porque mucha de su actividad está aquí; infinidad de restaurantes y bares para disfrutar.
3.- YOU HAVE TO WALK AROUND THE SAN DIEGO´S DOWNTOWN. If you go to San Diego and do not walk its downtown streets, believe me you did not go to this city because a lot of its activity happens here; countless restaurants and bars to enjoy.
4.- VISITAR LITTLE ITALY y cenar en un auténtico restaurant italiano, en verdad es como estar en Italia.
4.- VISIT LITTLE ITALY and dine in an authentic Italian restaurant, it's really like being in Italy.
5.- COMMUNAL COFFEE, tomar un delicioso café en esta emblemática cafetería tipo pinterest con deliciosos cafés es un must, mi favorito el Lavanda Latte en las rocas, además es florería y tienda de regalos estilo vintage. No olvides tomarte la foto en su famoso Wall.
5.- COMMUNAL COFFEE, when you visit San Diego is a must to take a delicious coffee in this Pinterest coffee shop. Here you will find gifts and flowers, Yes! is a Flower shop also with vintage style. Don´t forget to take the traditional picture at it´s famous wall.
6.- RECORRER HILLCREST, tiene murales, cafés, restaurantes y tiendas interesantes.
6.- WALK AROUND HILLCREST, has murals, cafes, restaurants and interesting shops.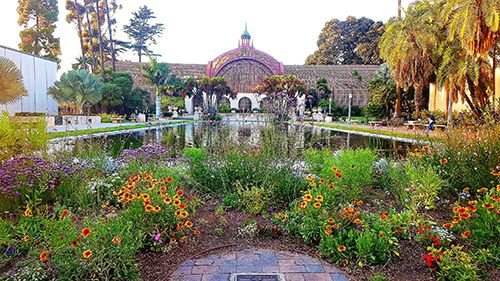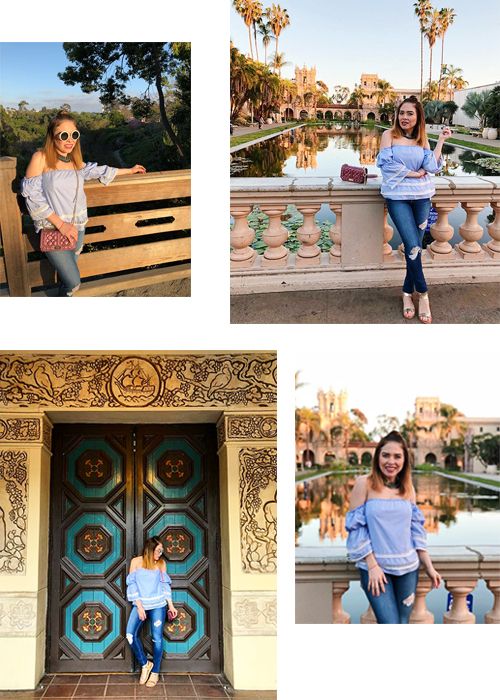 7.- IR AL BALBOA PARK Y MUSEOS sin dejar de visitar el Jardín Japonés, cuenta con más de 16 museos que te dejarán más que impresionado.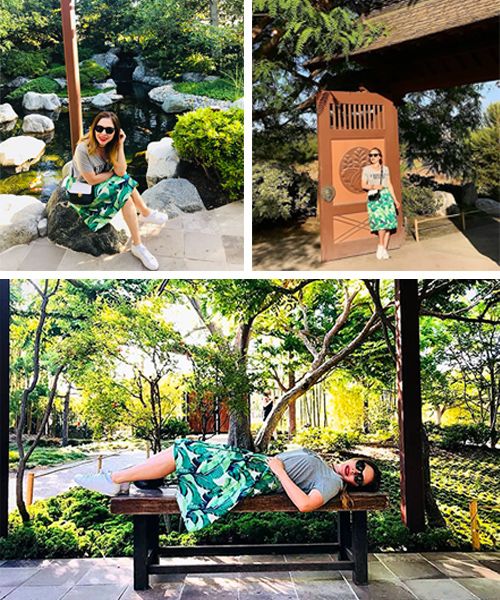 7.- GO TO THE BALBOA PARK AND MUSEUMS without forgetting to visit the Japanese Garden, it has more than 16 museums that will leave you more than impressed.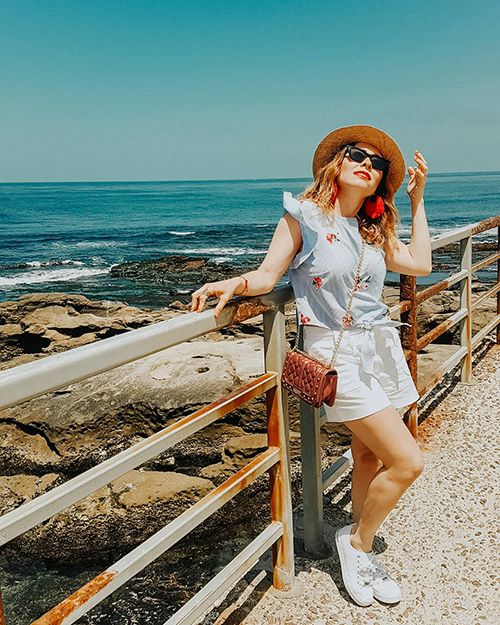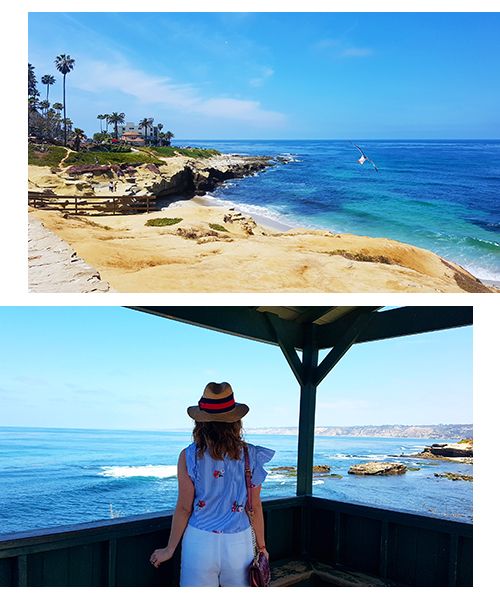 8.- LA JOLLA, MÁS QUE UNA PLAYA. Admirar los leones marinos, recorrer la bahía, es un estilo entre Rodeo Drive y Santa Mónica, me encanta. Les recomiendo un restaurant delicioso Eddie V´S Prime Seafood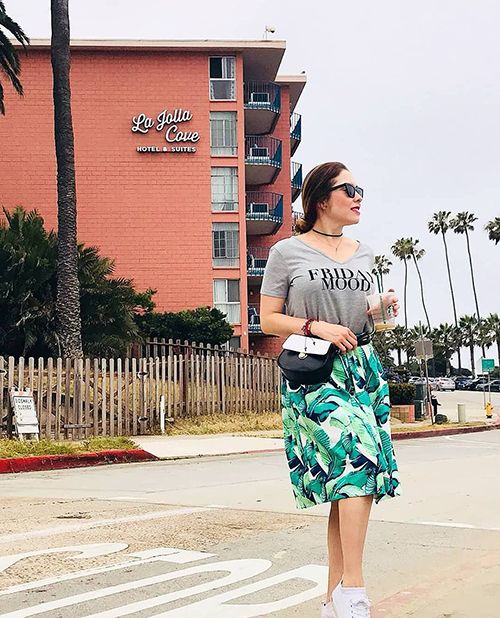 8.- LA JOLLA, MORE THAN A BEACH. You can admire the sea lions, enjoy the bay, it has a style between Rodeo Drive and Santa Monica, I love it. I recommend you guys a delicious restaurant, Eddie V'S Prime Seafood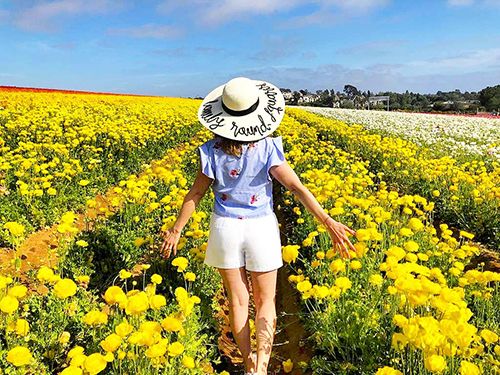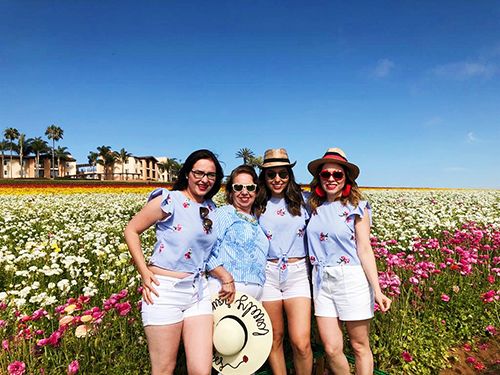 9.- THE FLOWER FIELDS. EL CAMPO DE FLORES MÁS FAMOSO DE CALIFORNIA. Es como estar en el paraíso. Lo único es que este lugar sólo abre de Marzo a Mayo cuando las flores están en su mejor momento pero no dejes de checar su calendario y si te gusta puedes planear tu viaje en estas fechas.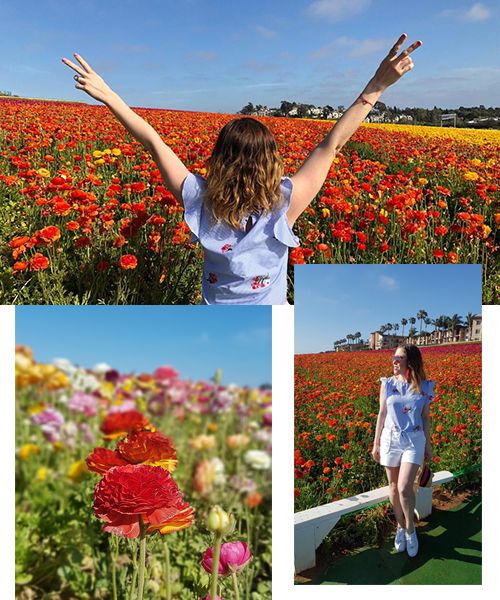 9.- THE FLOWER FIELDS. THE MOST FAMOUS FLOWER FIELD OF CALIFORNIA. It's like being in paradise. The only thing is that this place only opens from March to May when the flowers are at their best but do not forget to check your calendar and if you like you can plan your trip on these dates.
10.- HOSPEDARTE O VISITAR EL EMBLEMÁTICO HOTEL DEL CORONADO. Además de caminar por su corredor de tiendas y comer una deliciosa pizza en su restaurant de la terraza, cuenta con una gran historia que cuenta en sus paredes desde presidentes hasta personalidades muy famosas que lo han visitado.
10.- STAY A NIGHT OR VISIT THE EMBLEMATIC HOTEL DEL CORONADO. In addition to walking through its stores and eating a delicious pizza at its restaurant on the terrace, this hotel has a great story that tell us in its walls. Presidents and very famous personalities have visited the hotel.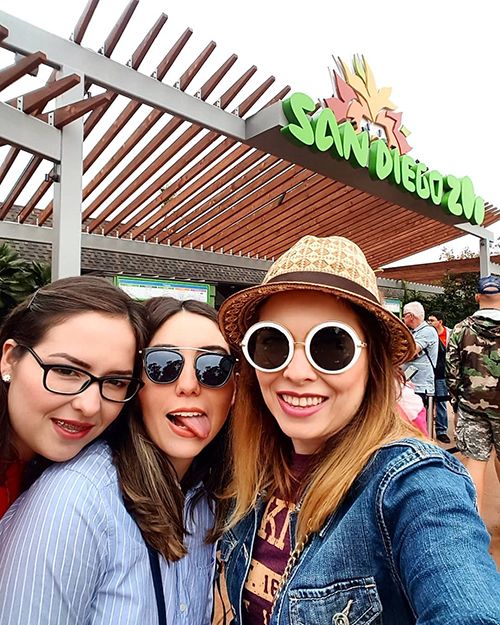 11.- EL ZOOLÓGICO DE SAN DIEGO. Uno de los mejores del mundo, alrededor de $54 dlls la admisión general pero la verdad es que la experiencia es fabulosa, encontrarás animales que nunca has visto.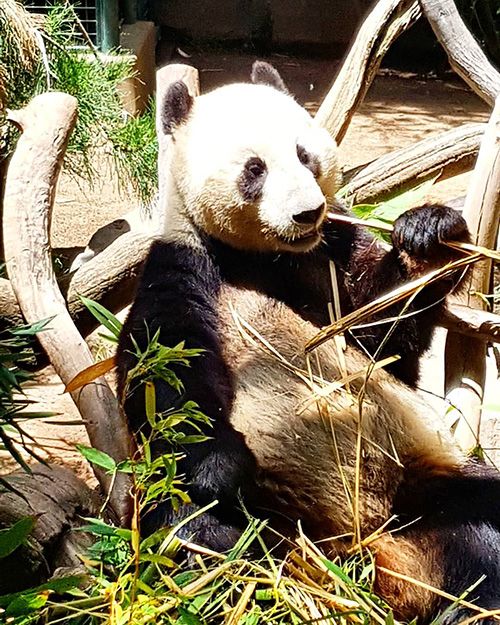 11.- THE SAN DIEGO ZOO. One of the best in the world. The entrance is around $ 54 dlls (general admission) but the truth is that the experience is fabulous, you will find animals you've never seen.
12.- SEA WORLD SAN DIEGO. Uno de los parques de diversiones más famoso del mundo. El costo de la entrada por un día es de $70 dlls aproximadamente.
12.- SEA WORLD SAN DIEGO. One of the most famous theme parks in the world. The cost of the entrance for a day is approximately $ 70 dlls.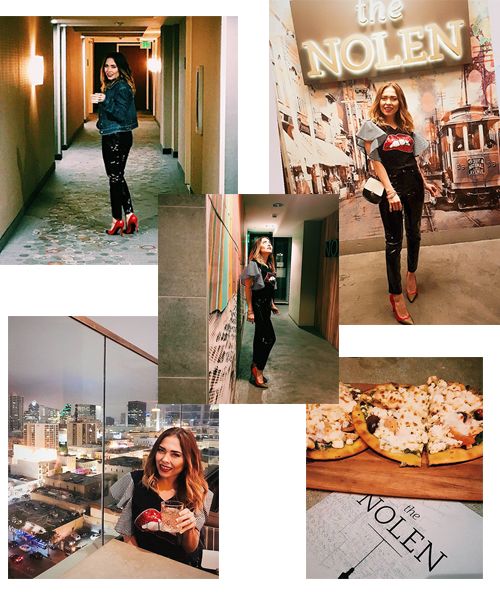 13.- CENAR Y TOMAR UN COCTEL EN «THE NOLEN» ROOFTOP. La vista es esplendorosa, la comida deliciosa. No puedes perderte la oportunidad de chocar los cristales con un buen coctel y disfrutar de la velada con vista a la vida nocturna del downtown de San Diego y su Estadio de Beis-ball.
13.- HAVE DINNER AND TAKE A COCKTAIL IN «THE NOLEN» ROOFTOP. The view is magnificent and the food is delicious. You can not miss the opportunity to have a good cocktail and enjoy the evening with a view of the nightlife of downtown San Diego and its Beis-ball Stadium.
14.- HACER SHOPPING EN «THE AMERICAS PREMIUM OUTLETS». Uno de los outlets más grandes de Estados Unidos además de tener grandiosas ofertas y variedad de tiendas.
14.- DO SHOPPING AT THE «THE AMERICAS PREMIUM OUTLETS». One of the largest outlets in the United States besides having great offers and variety of stores.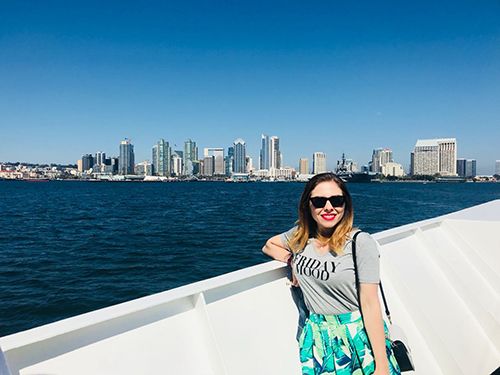 15.- TOMAR UN TOUR EN BARCO POR LA BAHIA DE SAN DIEGO.
15.- TAKE A BOAT TOUR BY THE SAN DIEGO BAY.
16.- IR A EXTRAORDINARY DESSERTS Y DESAYUNAR EN CAFE 21. De mis dos lugares recomendados para un buen postre o desayunar algo delicioso.
16.- GO TO «EXTRAORDINARY DESSERTS» AND HAVE A BREAKFAST IN COFFEE 21. two of my favorite places, these restaurants are very good for a good dessert or breakfast something delicious.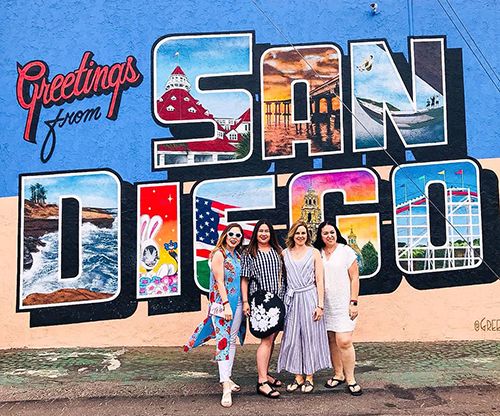 17.- SAN DIEGO VIBES WALL. Para finalizar este viaje necesitarán esta foto, es como una gran postal y estoy segura que la enviarán a todos sus amigos desde esta bella ciudad. Esta es la dirección: 4225 30th St, San Diego, CA 92104, EE. UU.
17.- SAN DIEGO VIBES WALL. To end this trip you will need this pic, it´s like a Big postcard and I´m sure you will sent it to all your friends, from this beautiful city. Address: 4225 30th St, San Diego, CA 92104, EE. UU.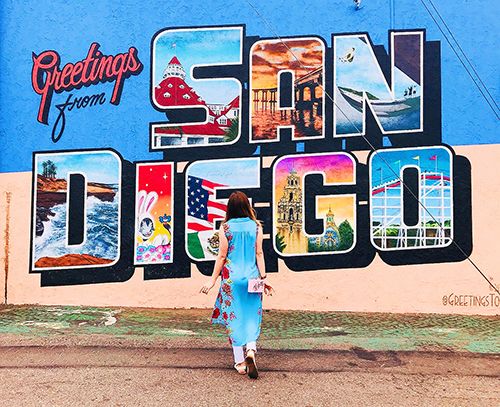 Creo que con estas recomendaciones ya no tendrán dudas de que deben visitar esta ciudad, la pasarán de maravilla sin lugar a dudas!, yo me divertí a mares y eso sí, hubo muchas fotitos, muchas más de las que aquí les publiqué. Los amo y deseo que sigan teniendo una grandiosa semana.
Besos, Liz.
I think that with these recommendations you will have no doubt that you should visit this city, I´m sure you will have a great time without a doubt !, I had a lot of fun and yes, there were many photos, many more than the ones I published here. I love you and I hope you continue having a great week!
Kisses, Liz.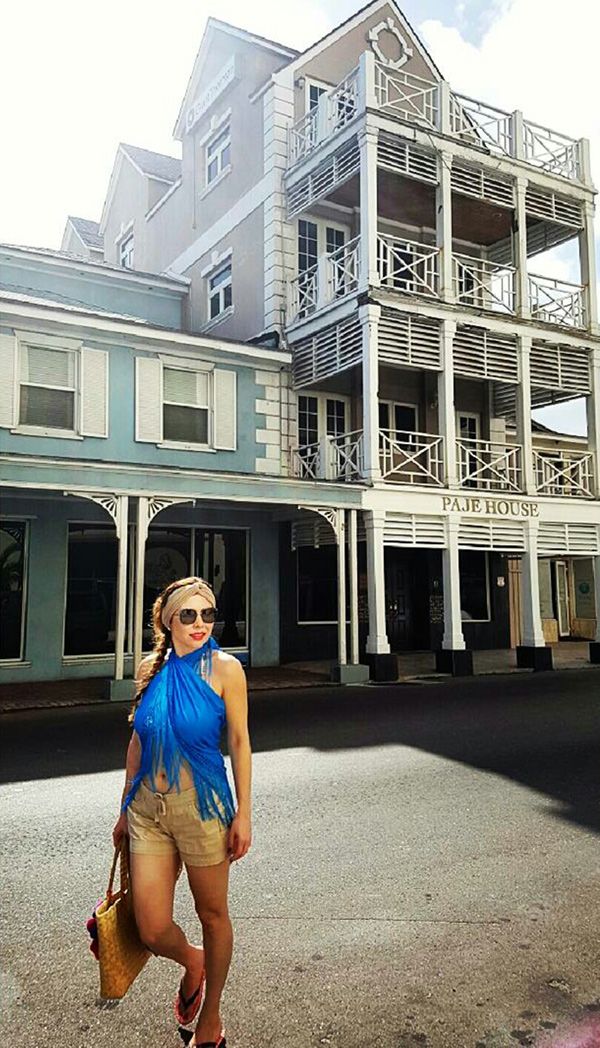 Acerca de esta hermosa tierra!
Hola amores, grandioso jueves, ya de vuelta a la realidad, tuvimos unas grandiosas vacaciones y espero que ustedes también. Les platico un poco de lo que visitamos. Nassau, considerado por muchos un paraíso (y que sí lo es), es la capital de Las Bahamas, es un bullicioso centro metropolitano lleno de cultura y comodidades modernas. Al norte se encuentra Paradise Island. Su nombre lo dice todo. Son 685 acres de pura euforia desarrollados casi exclusivamente para deleitar y acomodar a los visitantes. La isla cuenta con resorts, hoteles, restaurantes, tiendas, vida nocturna, campo de golf, acuario y casino, te va a encantar!.
Cada Isla en las Bahamas, ofrece oportunidades únicas y emocionantes para la cultura local.
Tuvimos tiempo para caminar Nassau durante nuestro crucero, es una ciudad increíble, los lugareños hacen artesanías hermosas como sombreros, bolsas, increíbles esculturas talladas a mano, cuando visitas la ciudad tienes que ir al mercado local. También pasamos tiempo en el Club de Playa del Hotel, el parque acuático Aquaadventure del hotel Atlántis, es una de las atracciones más emocionantes de la isla.
Obviamente nos tomamos unos minutos para hacer estas hermosas fotos, nada puede capturar la verdadera belleza de este lugar, pero tratamos de sacar unas lindas fotos para que puedan enamorarse como nosotros.
Realmente tuvimos mucha diversión, ¿Qué piensas acerca de que este sea tu próximo destino en tus vacaciones?.
Con amor, Liz.
———————————————————————————————————————————————————————–
Something about this lovely land!
Considered by many as, well, paradise. Nassau, the capital of The Bahamas, is a bustling metropolitan hub full of culture and modern amenities. To the north lies Paradise Island. Its name tells you everything. It's 685 acres of pure euphoria, developed almost exclusively to delight and accommodate visitors. The island boasts resorts, hotels, restaurants, shops, nightlife, a golf course, an aquarium and a casino, you are gonna love it!
Each island in The Bahamas offers unique and exciting opportunities for Local Culture!.
We had time to walk around Nassau during our cruise, it is an amazing city, the locals make beautiful crafts like hats, bags and incredible carved sculptures, when you come here you have to visit the local market. Also we spend time in the Beach Club of the Atlantis Hotel, The aquaadventure water park, it is one of the most exciting attractions on the island.
We obviously took the time and were able to take these beautiful photos, nothing can capture the real beauty of this place, but we try to photograph the best, so you can fall in love just like us.
..really! I had so much fun, what do you think about to travel here for your next vacations?…Love, Liz.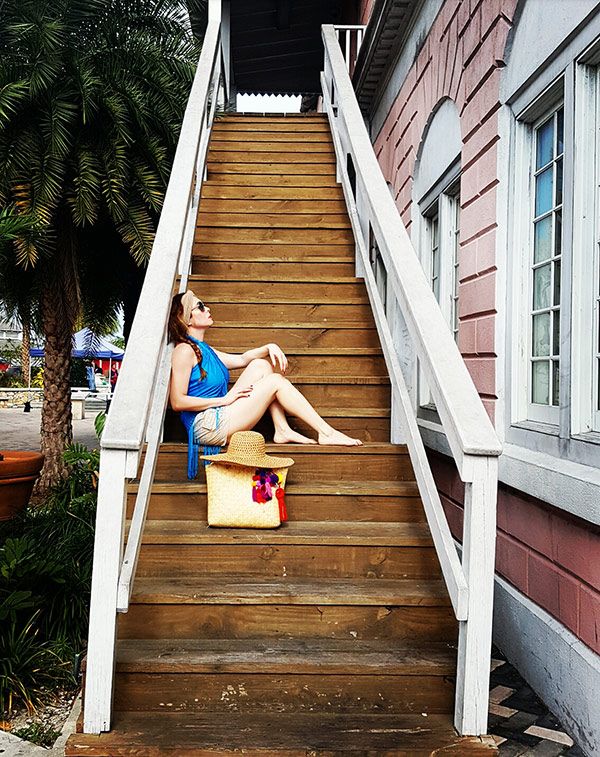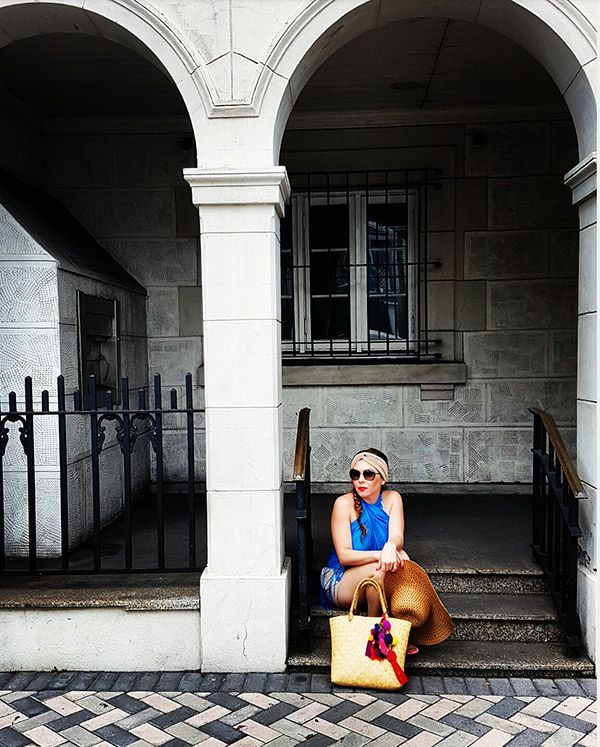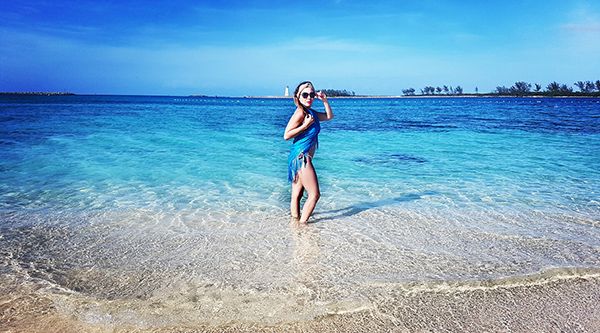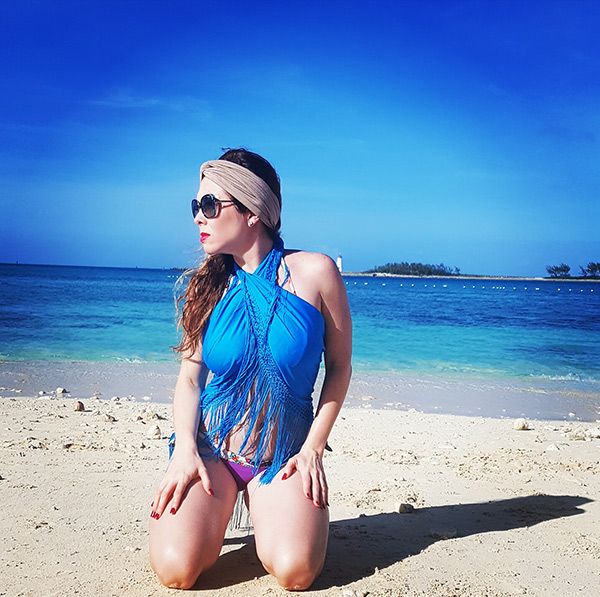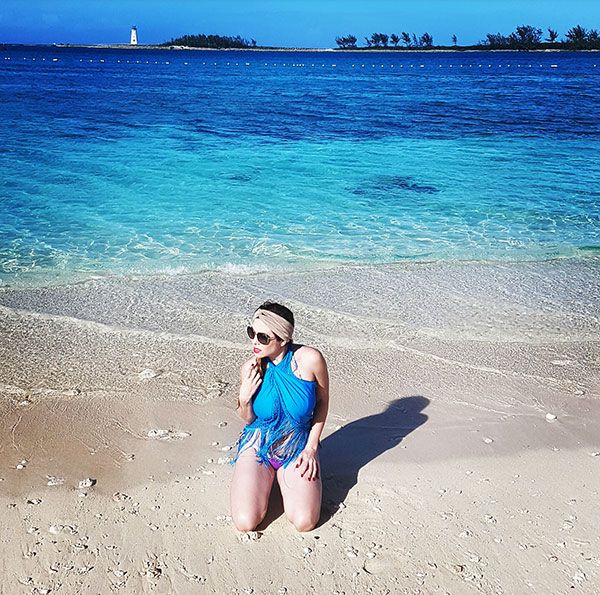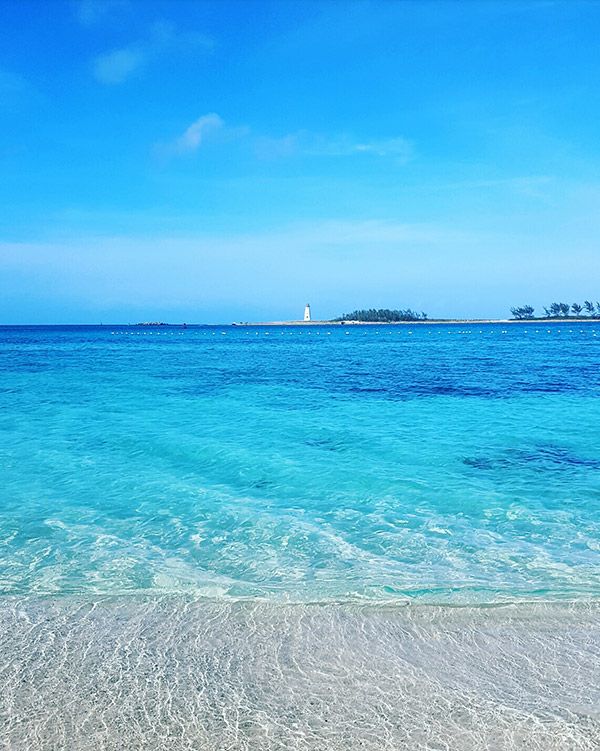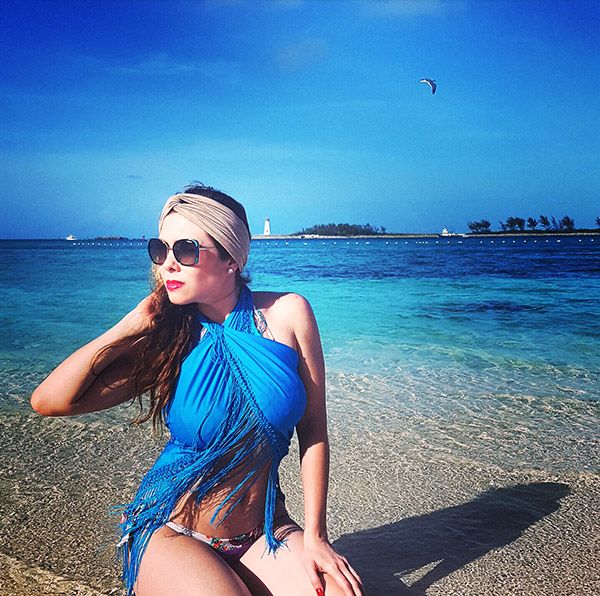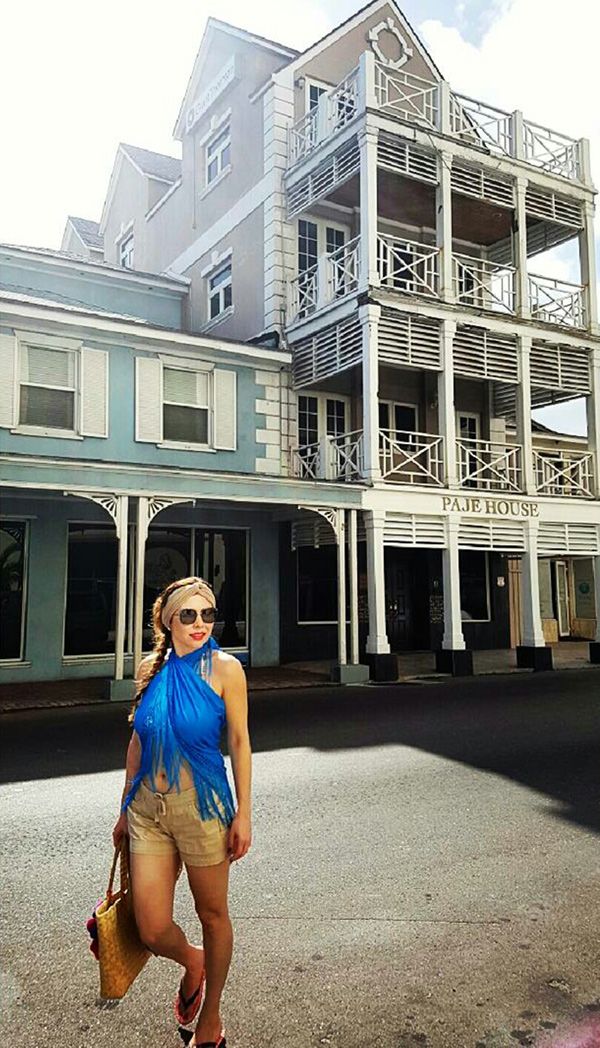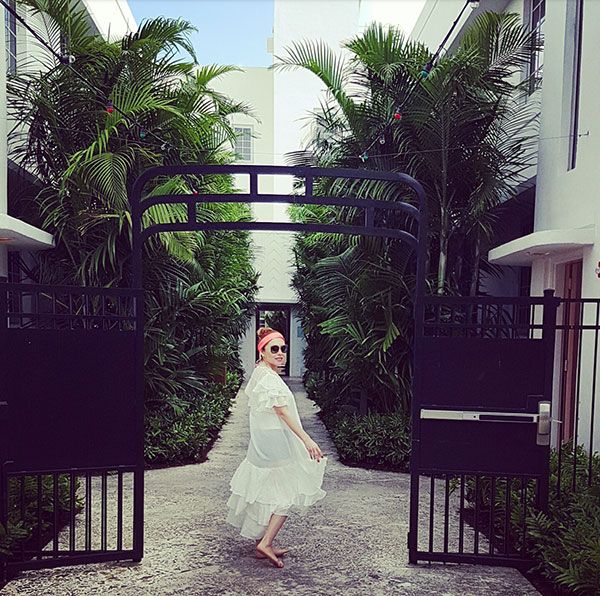 Ya estamos de vacaciones, disfrutando seguramente del sol, arena y mar o para aquellos que sólo descansan en casa sin el ruido cotidiano de los autos y simplemente en familia, creo que es perfecto. Ya saben que a mi me encanta viajar y como siempre Miami te permite disfrutar y relajarte al 100. Este hotel boutique es encantador y su jardín me recuerda a una jungla jaja si ya sé, que loco!!, en fin por lo pronto nos relajamos y disfrutamos de este maravillo momento, las fotos mi esposo las tuvo que tomar jaja pero él encantado, eso creo yo!. Cuando vengan a Miami no olviden este lugar, en este jardín por las tardes-noches abre el bar y el ambiente es genial, la entrada es para el público en general, te conquistará. El outfit, un hermoso Caftán de Ary Marrufo, lo amo!!, ella tiene unos diseños preciosos y diferentes. Esta diseñadora Mexicana apuesta por los diseños únicos, su nueva Colección está inspirada en Africa, me encanta!. Gracias Ary, creo que este caftán se dejó llevar y nos dio su toque chic, perfecto para unos instantes en la jungla. Disfruten sus vacaciones donde quiera que estén cariños!!, gracias a dios después de una terrible gripe pude reponerme y me tienen de vuelta.
Besos playeros!!…Liz.-
---
We are already on vacations, surely enjoying the sun, sand and sea, or for those who only rest at home without the daily noise of the cars and just want to pass the time with the family, I think is perfect. You know that I love to travel and as always Miami allows you to enjoy and relax 100 percent. This boutique hotel is lovely and its garden reminds me a jungle, hahaha I know, it is a little bit crazy!, but at the end we relaxed and enjoyed so much this moment, my husband took the pictures, I think he had much fun. When you visit Miami, don´t forget to visit this hotel, this place has a garden an in the evenings the bar is open to all the people, you will love it. About the outfit: I´m wearing this lovely Caftán by Ary Marrufo, she has beautiful designs. This Mexican Designer always bet for uniques designs with a special style, her new collection is inspired by Africa, I love it. Thank you Ary, I think this caftan give us a chic touch, perfect for a few moments in the jungle. Enjoy your vacations wherever you are loves. Thank to God after a terrible flu, I could recover my self and now you have me back.
Kisses….Liz.
HOTEL THE HALL SOUTH BEACH HOTEL MIAMI   I   OUTFIT: CAFTÁN BY ARY MARRUFO MX