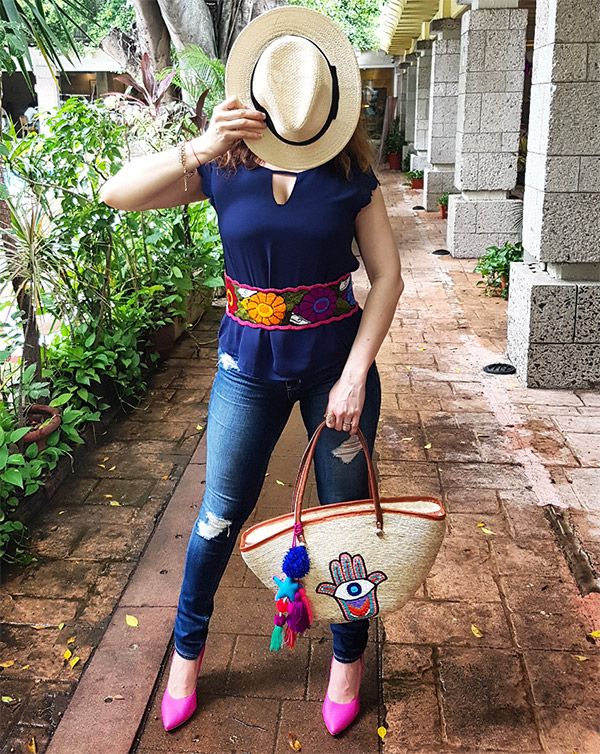 Hoy en día el diseño mexicano está más fuerte que nunca, a donde vayamos podemos encontrar diseñadores mexicanos con unas grandiosas propuestas y los accesorios no se quedan atrás. Hoy quise compartir con ustedes estas hermosuras y el look que logré al combinar estas piezas tan básicas; por si solas parecieran simples pero con los elementos indicados lucen de maravilla y se vuelve un gran acierto.
Opté por unos jeans, una blusa azul marina y unos zapatos que últimamente son de mis favoritos en ese bello color Rosa Mexicano para poder hacer match con los accesorios que tienen colores muy vibrantes y llamativos como el cinto hecho a mano por artesanos mexicanos, el bolso con pompones y detalles bordados y los aretes largos que están en su máximo momento ahora y se ven increíbles, me declaro su fan!; para los que apenas me leen todo lo que sea en colores fuertes me define, me da alegría. ¿Qué les parece? a mi me encanta!!, ahora hay tantas opciones, el estilo permite combinar y crear outfits tan geniales; probablemente tienes algunas piezas que sientes que les falta un toque especial y ahora podrás darte una idea, seguro que ahora verás el diseño mexicano con otros ojos y querrás tener todo. Hoy al salir a la calle me sentí muy orgullosa de llevar cosas tan maravillosas hechas en nuestro México.
Gracias como siempre por leerme, les mando millones de besos y abrazos!!….Liz.
Blusa AGACI  /  Jeans HOLLISTER  /  Bolsa y Aretes ANTTRA JOYERÍA  /  Zapatillas (Similar)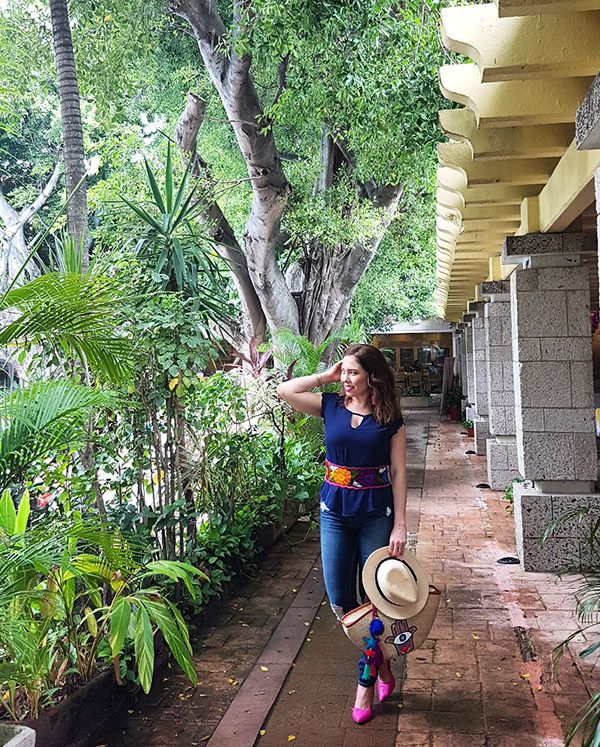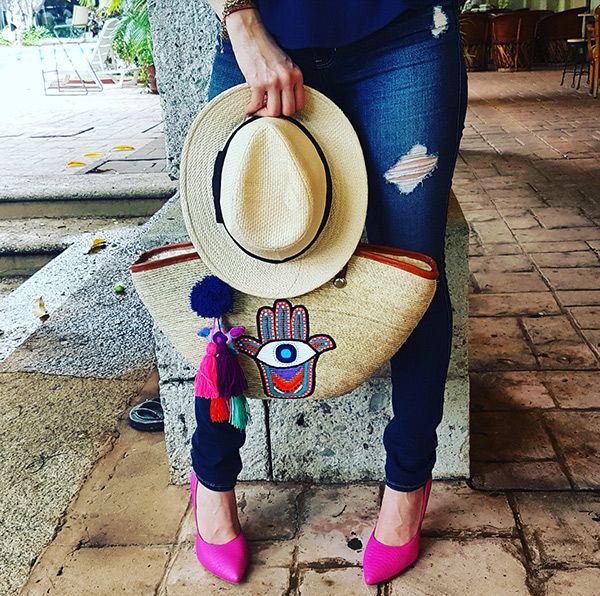 Today, Mexican design is stronger than ever, wherever we go we can find Mexican designers with great proposals and accessories are not far behind. Today I wanted to share with you these beautiful things and the look that I achieved by combining these basic pieces; by themselves they seem simple but with the indicated elements they look great and it becomes a great success.
I opted for jeans, a navy blue blouse and this lovely shoes that now are one of my favorites in this beautiful Mexican Pink in order to match with the accessories that have vibrant colors like the belt made by hand, the bag with pompoms and embroidered details and long earrings that are at their peak now and look amazing, I declare fan of them! for those who just read me everything that is in vibrant colors defines me, it gives me joy.  What do you think? I love it !!, now there are so many options, the style allows you to combine and create such great outfits; you probably have some pieces that you feel that need some special touch and now you have an idea, surely now you will see the Mexican design with other eyes and you will want to have everything. Today when I went out on the street, I was very proud to have such wonderful things done in our Mexico.
Thanks as always for reading me, I send you millions of kisses and hugs !!…. Liz.
Top AGACI  /  Jeans HOLLISTER  /  Bag & Earrings ANTTRA JOYERÍA  /  Stilettos (Similar)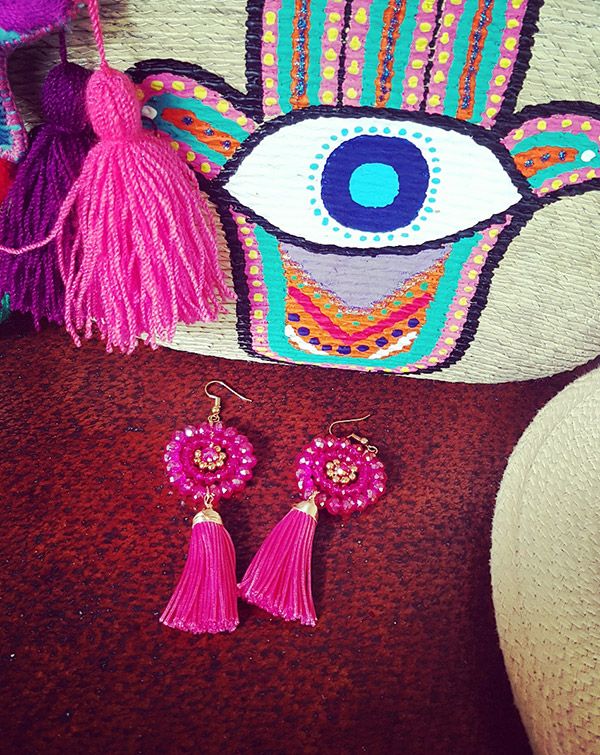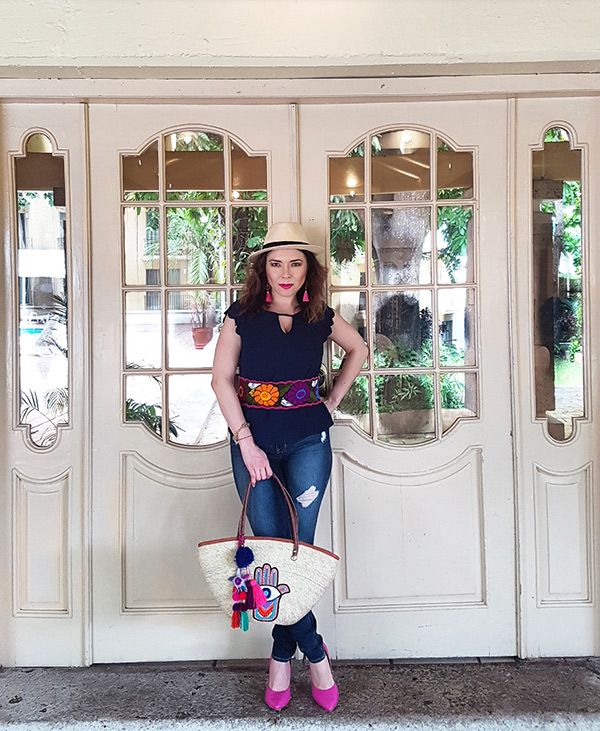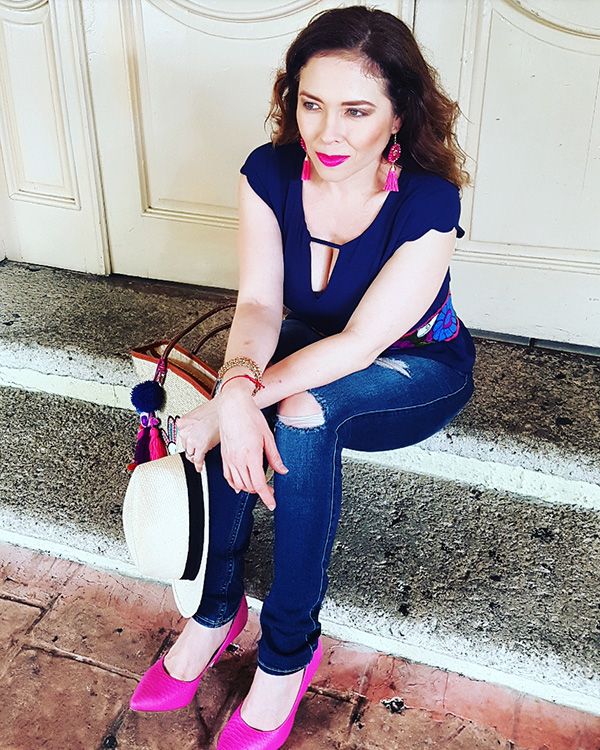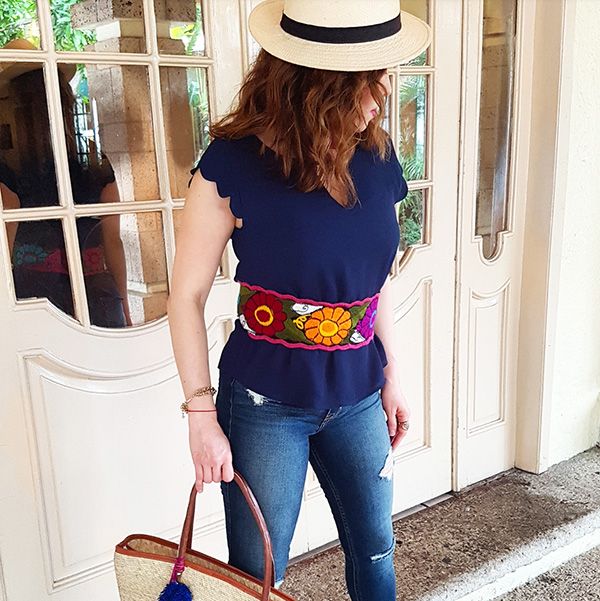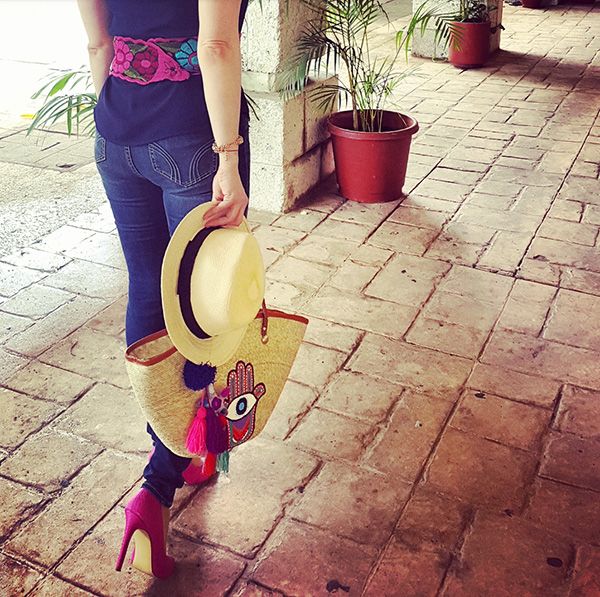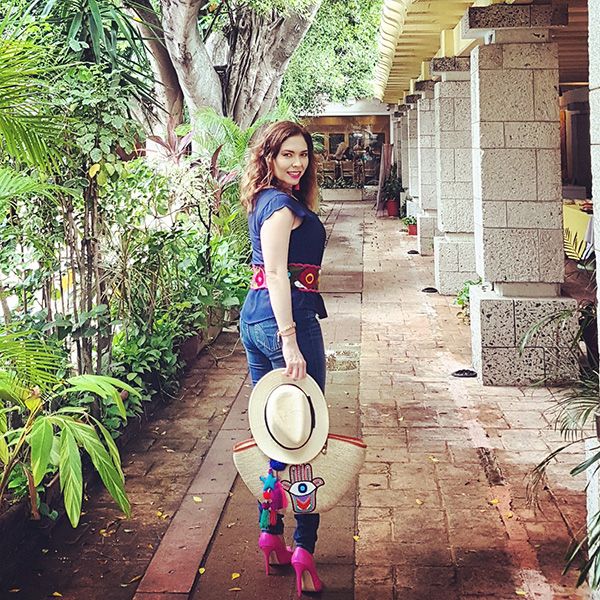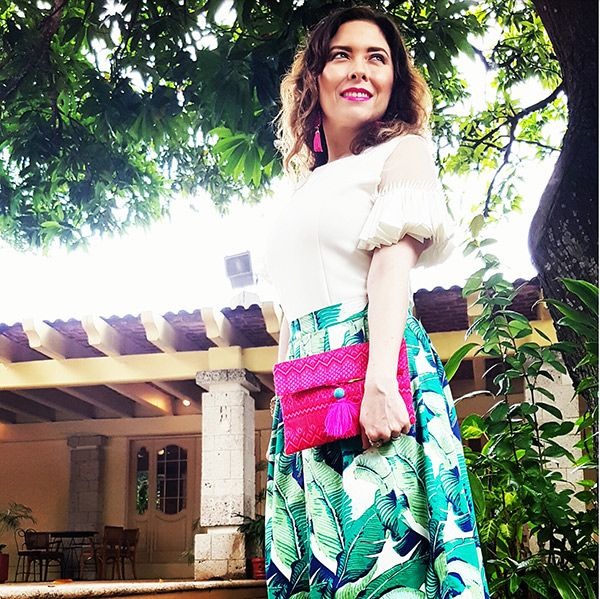 Buen día cariños, ya por fin de vuelta, había estado de viaje y ya saben todo se complica con los tiempos y los compromisos pero ya estoy aquí nuevamente y con esta editorial que me parece les va a encantar tanto como a mi. Últimamente tengo una fijación con las hojas! sí!!! todo lo que lleve hojas y es que esta temporada han revolucionado todo desde la decoración de interiores hasta los outfits y más lo veremos este verano en la playa. Como saben estuve de visita con la familia y aproveché para hacer este photoshoot padrísimo que estuvo a cargo de @_codex_. Una grandiosa fotografía y locación además de los accesorios fueron el escenario y marco de este fabuloso momento. Les cuento que traía en la mente desde que vi la falda esta combinación con unos stilettos en rosa mexicano así que me di a la tarea de armar el outfit y el resultado fue mejor de lo esperado. A veces nos casamos con la idea de que los accesorios deben ser del mismo color que la ropa y ahora quise mostrarles lo diferente que puede lucir un outfit si te atreves a hacer el contraste, las últimas temporadas en la moda han dejado muy claro que lo nuevo es salirte de la caja, combinar diferentes prints o colores que hagan armonía como en el outfit que elegí con el print de las hojas y el rosa. Este verano el verde y el rosa serán un acierto increíble.
Ahora si cariños me despido, espero les gusten estas fotos y les de una idea para jugar con nuevas opciones. Les deseo un grandioso día. Gracias por su amor!, Liz.
Blusa: Agaci / Falda: Francesca´s / Bolso: Tacabimx / Aretes: Anttra Joyas / Fotografía:  @_codex_
———————————————————————————————————————————————————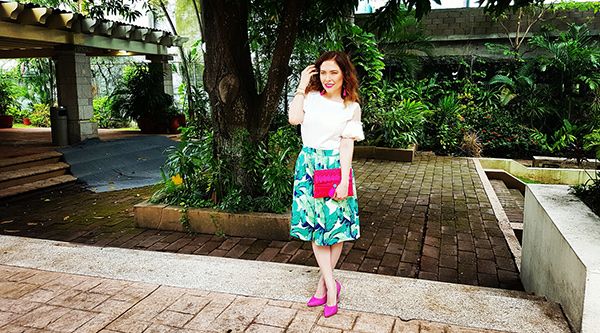 Good morning my loves, finally I´m back, I had been traveling last week and you know everything is complicated with the time and the commitments but I'm already here and today I´m bringing to you this story that I think you will love it as much as I do. Now I have this fixation for leaves! yes!!!, I have a crush with everything that have leaves; this season have revolutionized everything, from interior decoration to outfits and this summer we will see more about this on the beach. As you know I was visiting the family and took the opportunity to make this great photoshoot that was in charge of @_codex_. A great photograph and location besides the accessories were the setting and frame of this fabulous moment. Let me tell you what since I saw the skirt, I had on mind this combination with a stilettos and accesories in vibrant pink color and the result was better than expected. Sometimes we marry the idea that the accessories should be the same color as the clothes and now I wanted to show you how different an outfit can look if you dare to do the contrast, the last fashion seasons have made it very clear you have get out of the box to combine different prints and colors that make harmony as in the outfit I chose with the print of the leaves and the pink accesories. This summer green and pink will be an incredible success.
Hope you like all the pics and this story. Have a great day. Thanks for all your love, Liz.
Top: Agaci / Skirt: Francesca´s / Clutch: Tacabimx / Earrings: Anttra Joyas / Photoshoot: @_codex_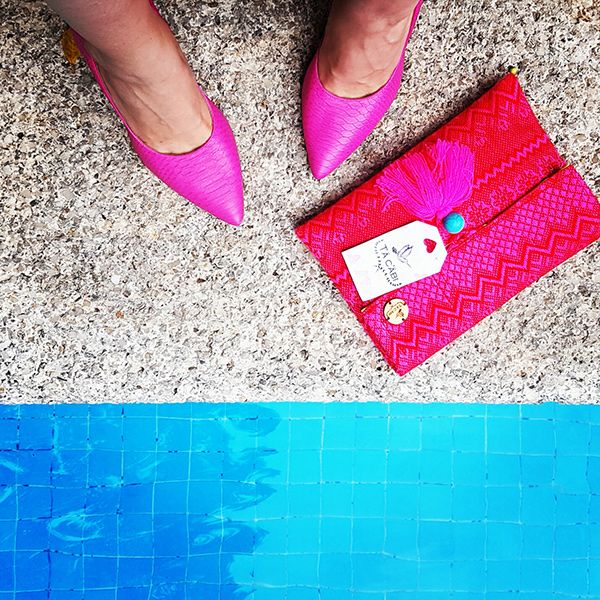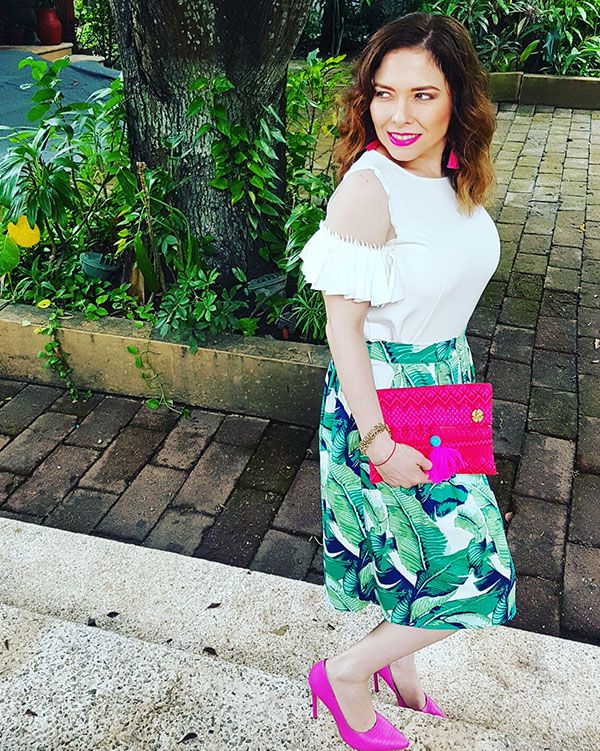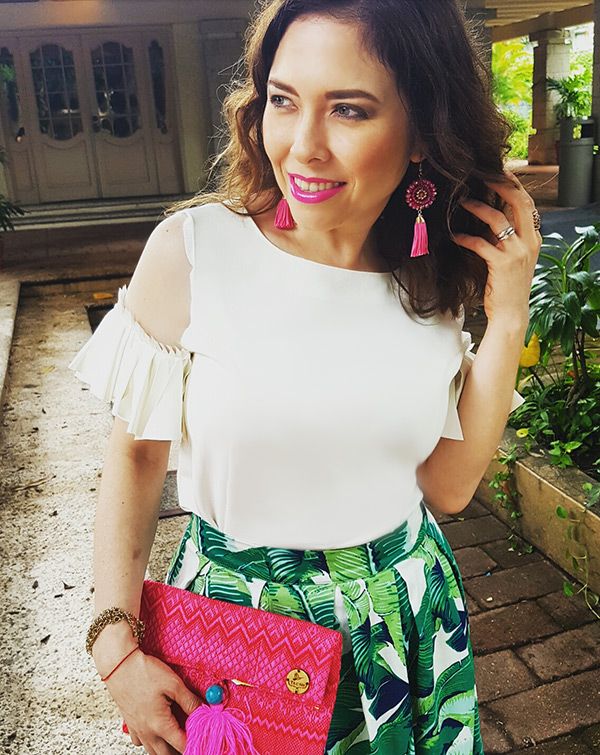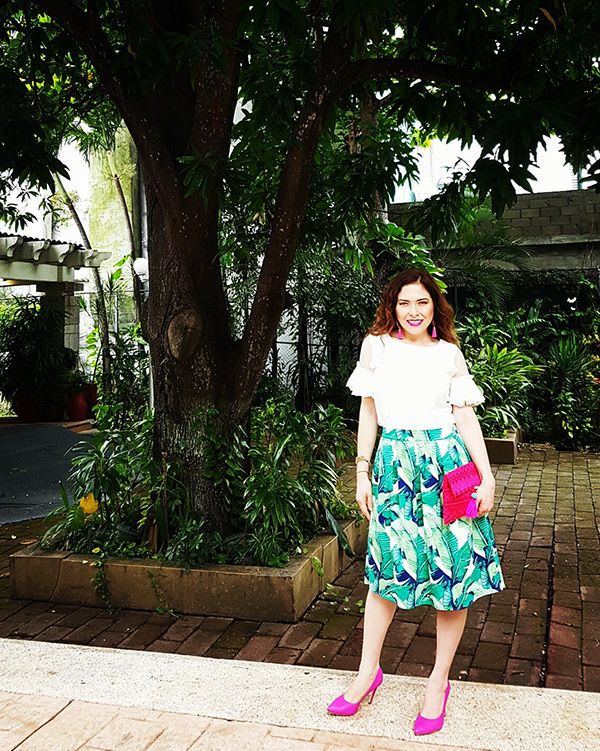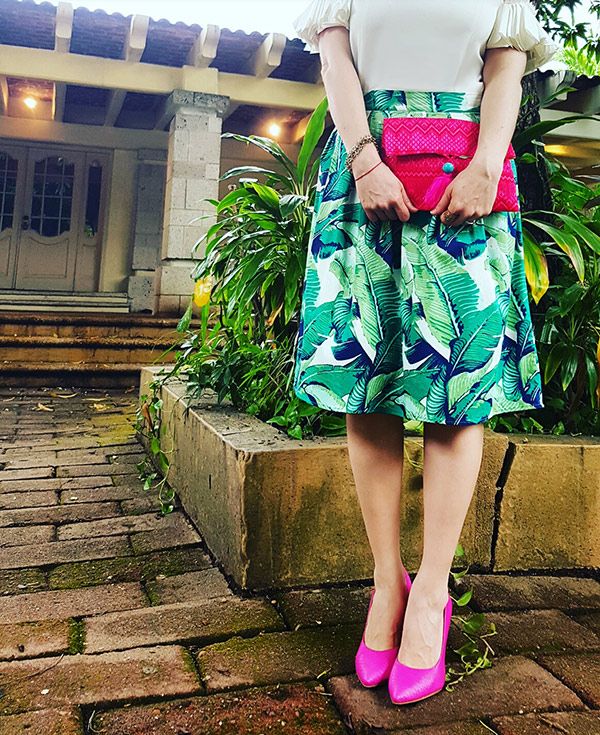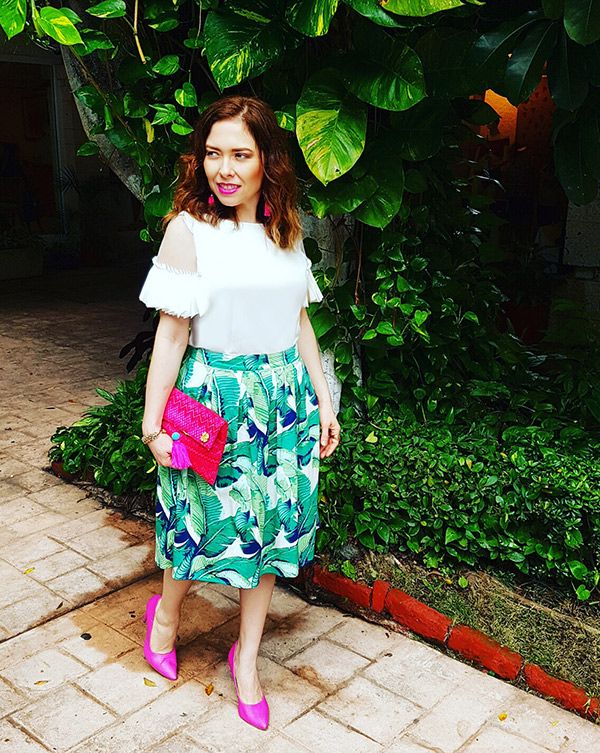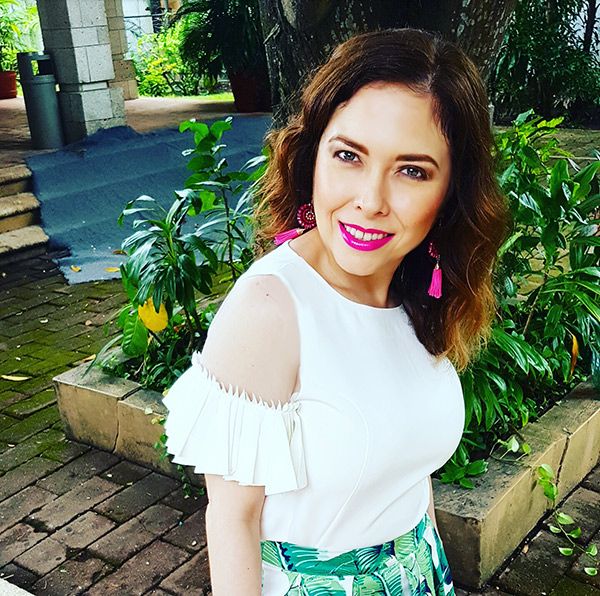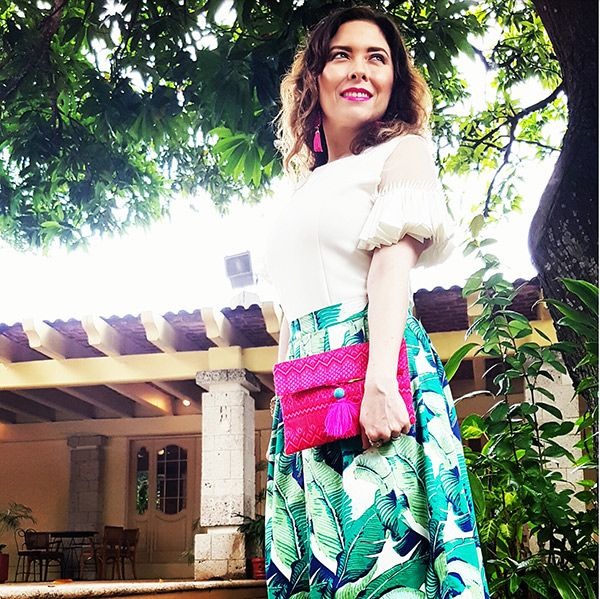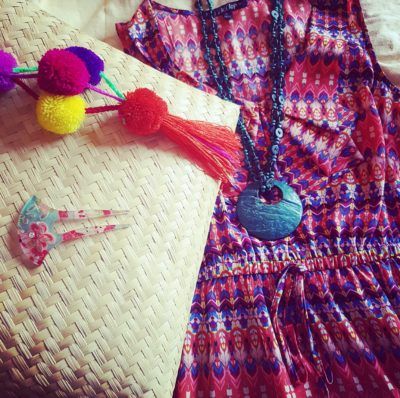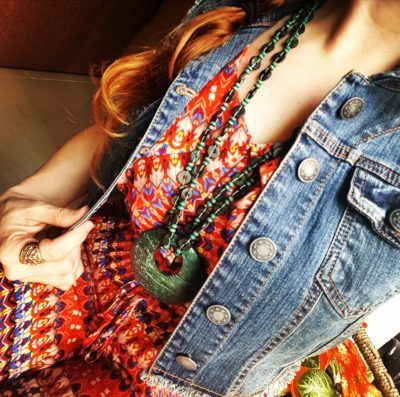 It's all about details! a statement that we'll never have to forget.
Let me tell you something about this trend, all the mexican culture is an amazing world, the colors, traditions, places and all those artesans that make art with their hands everyday, that makes me feel so proud about my country. This is the New design, is everywhere, an is part of me. Most famous designers are taking this trend and they are using it in all their collections.
ABOUT THE OUTFIT
Yesterday I decided to use this necklace with this colorfull dress, the necklace is a handmade piece in emerald color, so pretty don't you think?. The peinet is a beautiful accesorie that I bought in a japanese boutique and it match perfect with all the Outfit.
Fashion is not what you have, it's all about to know how to use it. The bag is simple but you can put a special pendant and Voá-la!, is easy, just feel it.
For a day Outfit if you have a denim Jacket with no sleeves is perfect and by night you can wear a Leather Jacket with ankle boots.
Enjoy your weekend dear ones…Love, Liz.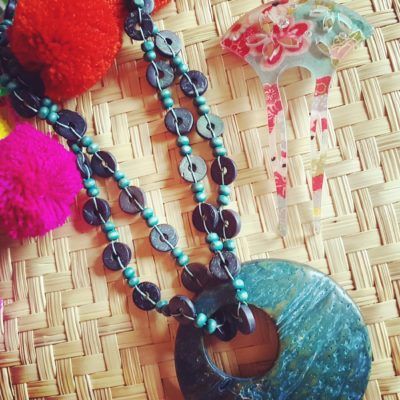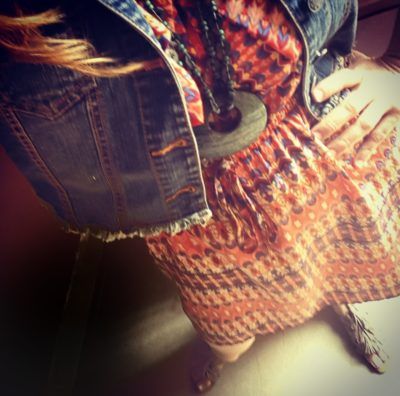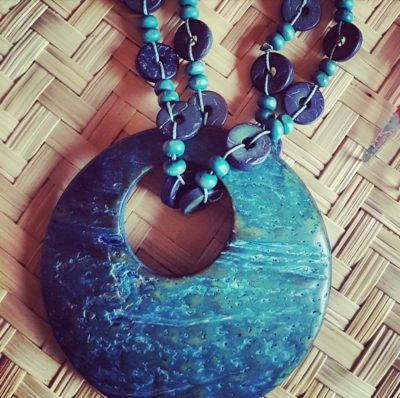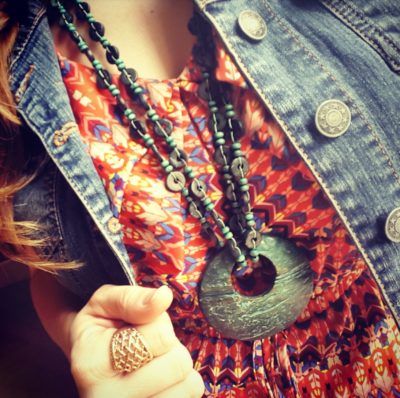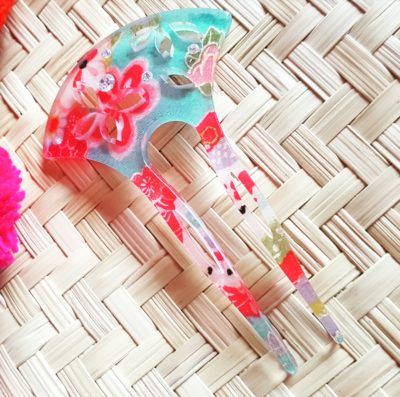 MEXI-CHIC UN ESTILO DIFERENTE HECHO A MANO
Todo está en los detalles, un mandato de moda que no debemos olvidar.
Déjenme contarles acerca de esta tendencia, toda la cultura mexicana es un mundo maravilloso; los colores, las tradiciones, los lugares y todos aquellos artesanos que hacen arte con sus manos día con día, eso me hace sentir muy orgullosa de mi país. Este es el nuevo diseño, está en todas partes y forma parte de mi. Muchos de los grandes diseñadores están tomando esta tendencia y la están aplicando en sus colecciones.
ACERCA DEL OUTFIT
Ayer decidí usar este collar con este colorido vestido, el collar es una pieza hecha a mano en color esmeralda, es hermoso ¿no creen?. La peineta es un hermoso accesorio que compré en una boutique japonesa y que cuadró perfectamente con todo el Outfit.
La moda no es lo que tienes, todo está en cómo la usas.
La bolsa es sencilla pero puedes colocarle un colgante especial diferente y Voá-la, es muy fácil, tienes que sentirlo.
Para un Outfit de día si tienes una chaqueta de mezclilla sin mangas te quedará perfecto y para la noche puedes usar una chaqueta de piel con unos botines.
Disfruten su fin de semana queridos, Besos, Liz.