EL LOOK / TOTAL LOOK
Zapatos-Shoes HM / Banda-Band COACH / Blusa negra-Black Blouse HM / Blusa blanca-White Blouse AGACI / Gorra-Baker boy hat HM / Cartera-Clutch (SIMILAR)
Cariños míos, ¿qué dice su mañana?, hoy les traigo algo que nos está volviendo locas a todas y todos!, el Animal Print style, esta tendencia y estilo que no pasa de moda nunca y cobra fuerza cada vez más, incluso cuando los aparadores captan nuestra atención por todas partes con las colecciones de las marcas y diseñadores.
My darlings, what does your tomorrow say ?, today I wanna share with you something that is making us all crazy, the Animal Print fever, this is a trend and style that never goes out of fashion and gains strength every time, also when the window displays catch our attention everywhere with the designers and brands collections.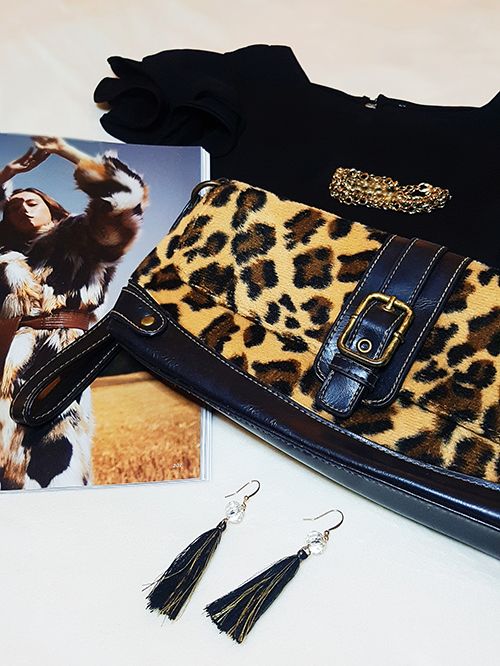 INICIOS DEL ANIMAL PRINT / BEGINNINGS OF THE ANIMAL PRINT STYLE
Increíble o no, proviene de los tiempos de las cavernas, cuando el hombre utilizaba las pieles para cubrirse de las altas temperaturas, también demostraba en algunas ocasiones poder sobre el animal que habían cazado. Conforme fue pasando el tiempo y la evolución las pieles empezaron a ser sinónimo de riqueza y status, incluso pasó a ser decoración de Grandes Mansiones como las alfombras y muebles.
Incredible or not, it comes from the times of the caverns, when the man used the skins of the animals to cover himself of the high temperatures, also demonstrated in some occasions power over the animal that they had hunted. As time and evolution passed, the skins began to be synonymous with wealth and status, even became the decoration of Great Mansions such as carpets and furniture.
Christian Dior se apoderó de esta tendencia durante los años 50, el costurero francés trabajaba con Mitzah Bricard, una figura esencial en los comienzos de la Maison Dior, que le transmitió detalles únicos de su estilo, como el animal print. Gracias a Bricard es parte de la esencia de la Casa Francesa y desde entonces no hay colección de Dior que no incluya una pieza de inspiración animal. Es así como todos los diseñadores hoy en día nos muestran su propio estilo de este print en sus colecciones.
Christian Dior took over this trend during the 50s, the French house worked with Mitzah Bricard, an essential figure in the early days of the Maison Dior, who conveyed unique details of his style, such as animal print. Thanks to Bricard is part of the essence of the French House and since then there is no Dior collection that does not include a piece of animal inspiration. This is how all designers today show us their own style of this print in their collections.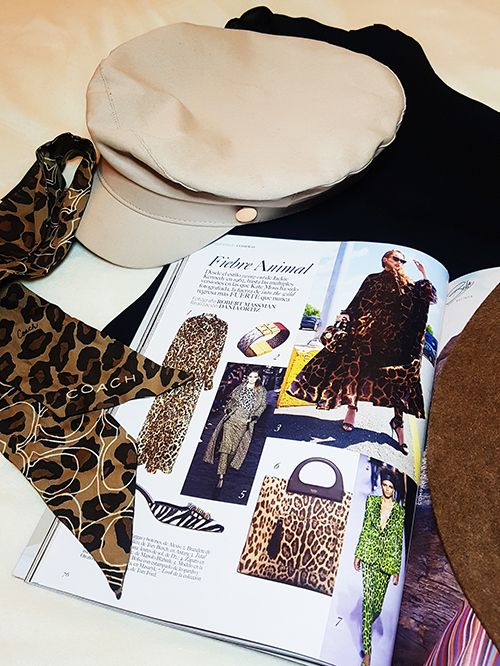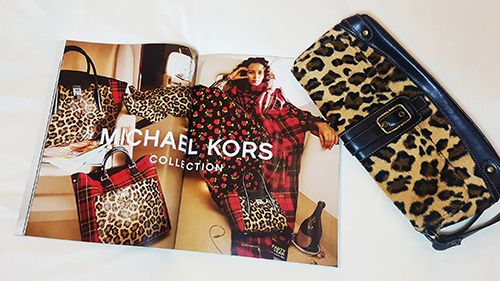 CÓMO Y CUÁNDO LLEVAR ESTE ESTILO / HOW AND WHEN TO WEAR THIS STYLE
Los colores para combinar o hacer match con el Animal print que mejor se llevan son: el nude, camel, blanco, marrones y ahora el rojo está haciendo de las suyas como la propuesta de Michael Kors. / The colors that makes perfect match with the Animal print style are: black, nude, camel, white, brown and now the red, like the proposal of Michael Kors.
Parte de lucir a la perfección esta tendencia es no combinarlo con otros prints como las rayas por ejemplo. / In order to wear this trend perfectly, do not combine it with other prints such as stripes for example.
Si eres una persona no tan extrovertida en lo que a estilos nuevos y diferentes se trata, puedes comenzar llevando esta tendencia ayudada de accesorios como: bandas, pulseras, cintos, bolsas, zapatos, guantes, sombreros, mascadas o pañoletas, incluso chales o chalinas. /
If you are not an outgoing person in terms of new and different styles, you can start by taking this trend helped by accessories such as: bands, bracelets, belts, bags, shoes, gloves, hats, scarves, even shawls.
El maquillaje es fundamental, para no caer en lo vulgar, tu maquillaje debe ser neutral. / Makeup is essential, so as not to fall into the vulgar, your makeup should be neutral.
Camisas y Playeras, te recomiendo las lleves con pantalones o faldas lisas, las prendas mal logradas puede restarle buen gusto a tu outfit. / About the shirts and t-shirts, I recommend you wear them with pants or smooth skirts, the badly accomplished garments can detract good taste to your outfit.
La clave fundamental es elegir una prenda o un accesorio de buena calidad, aquí está el secreto mejor guardado. / The key is to choose a garment or accessory of good quality, here is the best kept secret.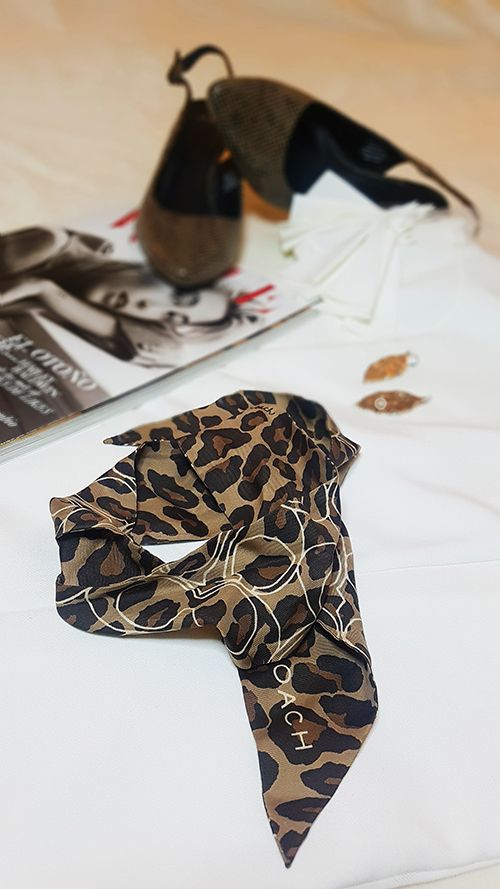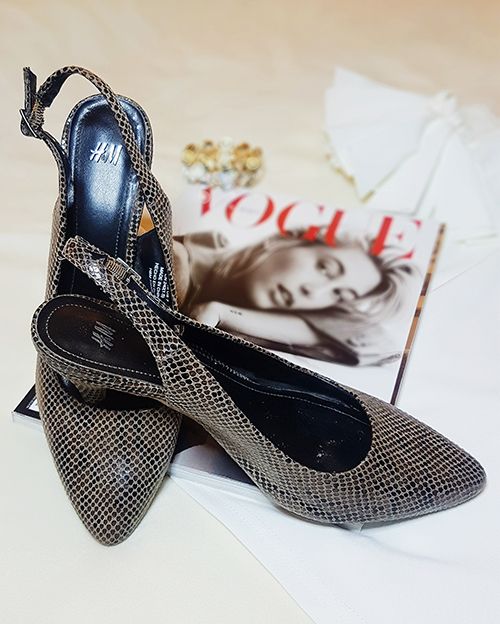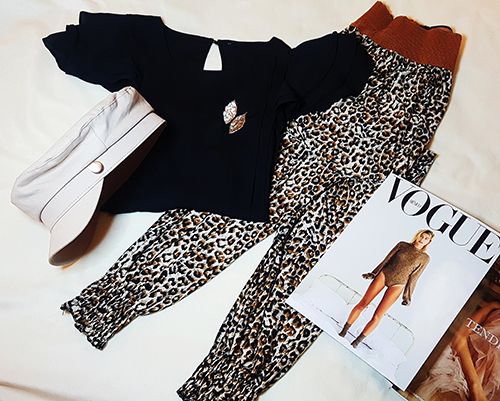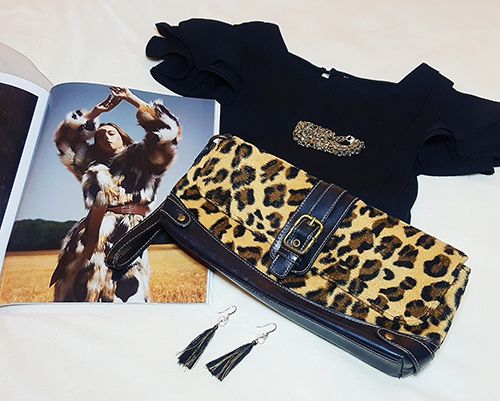 Yo en especial tengo piezas clave, tú de la misma manera puedes hacerlo y mantenerlo vivo siempre. Espero que les haya gustado este post, sobre todo que ahora tienen más ideas y aplicarlo a su propia personalidad. Como siempre, buenas vibras para todos y todas. Los quiero, Liz.
I especially have key pieces, you can do it in the same way and keep it alive forever. I hope you liked this post guys, especially that now you have more ideas and apply it to your own personality. As always, good vibes for everyone. I love you, Liz.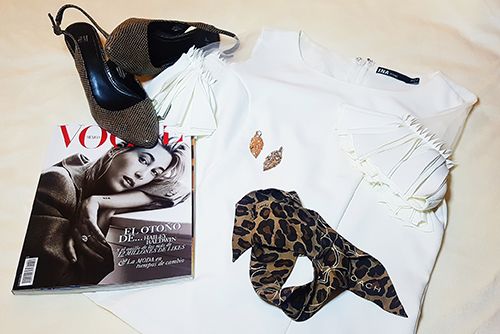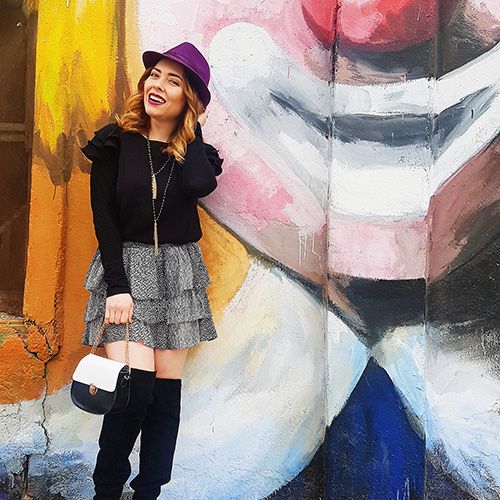 EL LOOK
            Sombrero (similar) / Blusa HM / Falda HM / Botas VINCE CAMUTO / Bolso (similar) /         Lentes FOREVER21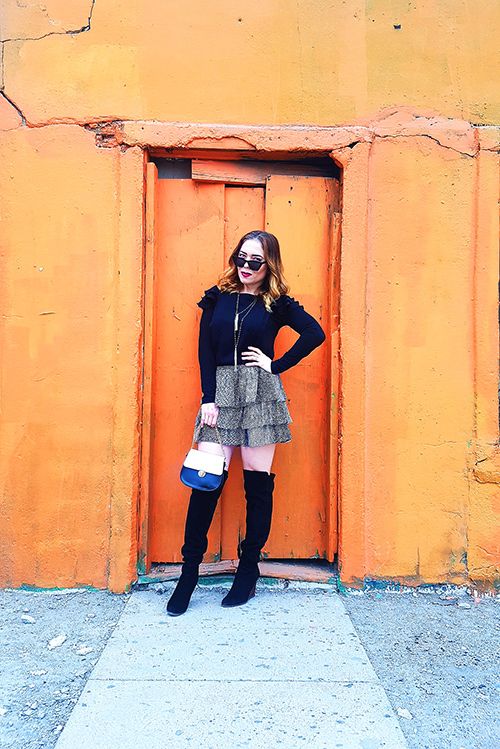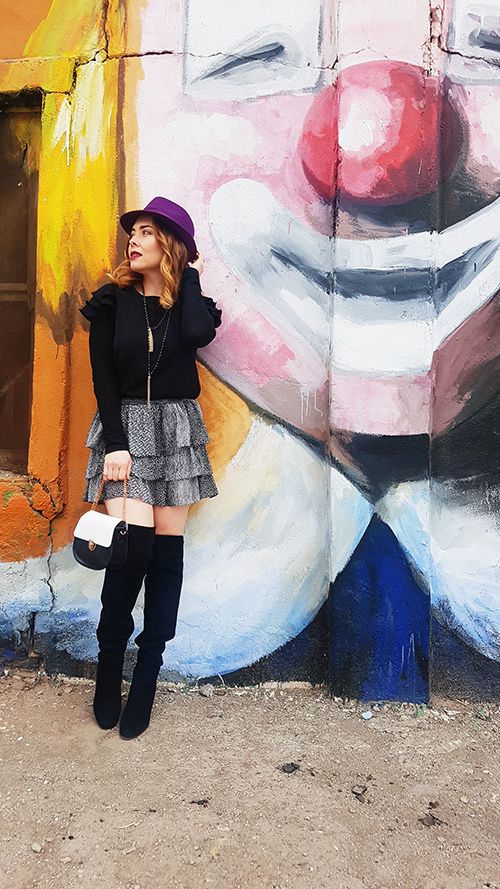 Durante la temporada de las Pasarelas todo este primer trimestre, hemos visto que los mejores diseñadores y las marcas más reconocidas han integrado a sus propuestas un estilo muy especial: LOS OLANES. Este elemento tan sencillo hace que una pieza se vea tan espectacular que llega a tener movimiento por si sola, por lo que es y será un acierto llevar olanes por varios meses. Además de verlos en vestidos y las faldas no sólo cortas sino también midi, los olanes vendrán muy fuertes en los trajes de baño para este verano!.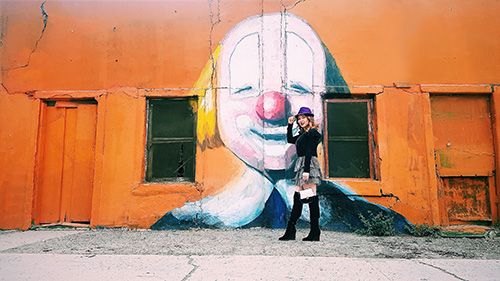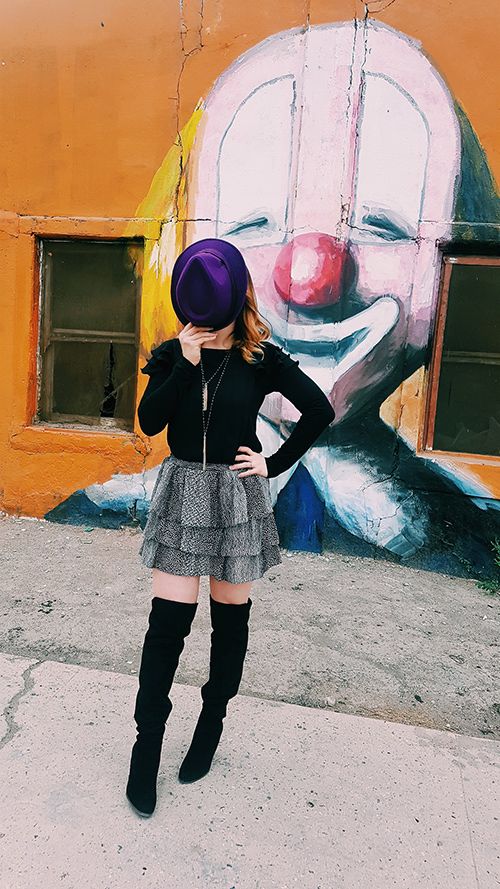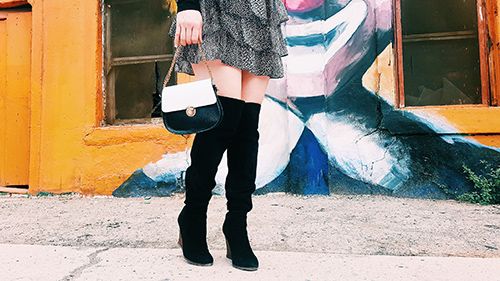 Como verán llevo en este outfit una mini falda con olanes y la blusa tiene detalles en las mangas igual, aunque llevo un color neutro muy combinado con la falda y botas, decidí agregar el elemento sorpresa, el sombrero en color Ultra-violeta!, pero puede ser rojo, azul, verde, el color que más les guste aunque lo elegí en este color no sólo porque sí pues tiene su razón de ser, ya que para los que no sepan aún, el ultra-violeta es el color del 2018 marcado por Pantone®; sin embargo les prepararé un post especial después donde hablemos únicamente del color Ultra-violeta y cómo llevarlo, pero pueden notar como le da el toque diferente y realza el outfit junto con la bolsa estilo Chloé que están súper en tendencia en dos tonos que hace un match perfecto con la falda en ese print; estas bolsas las amo, pequeñas pero perfectas para todo momento. ¿Qué opinan? ¿no hubieran pensado jamás agregar el sombrero verdad? bueno pues ya tienen una nueva idea y muy sencilla. Les dejo un abrazo y con este outfit unas fotitos para que lo cheque bien.
Besos…Liz.
Les recomiendo los blogs de Keren Cuadras y Gaby Velasco, con unos outfits similares, super Chics!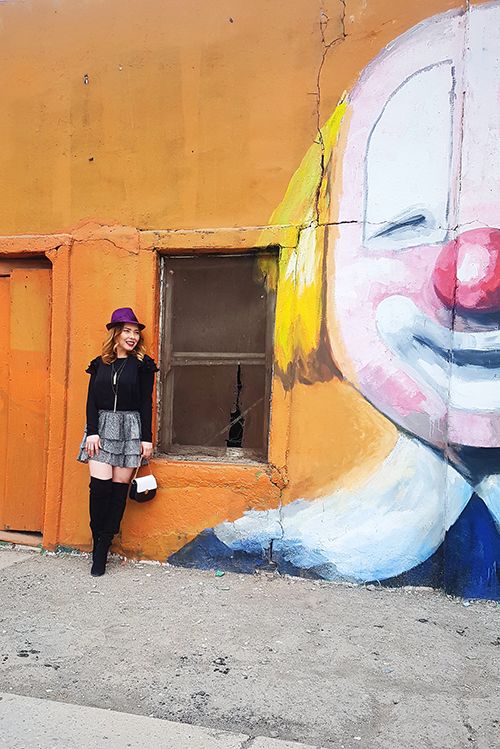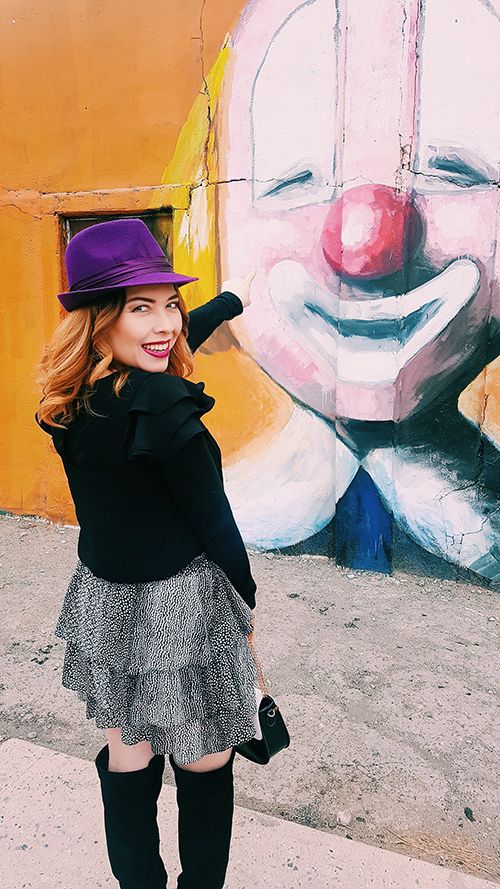 ————————————————————————————————–
During the season of the Catwalks all this first quarter, we have seen that the best designers and the most recognized brands have integrated to their proposals a very special style: THE RUFFLES. This simple element makes a piece look so spectacular that it has movement by itself, so it is and will be a success to wear them for several months. In addition to seeing them in dresses and skirts short and midi, the ruffles will come very strong in swimsuits for this summer !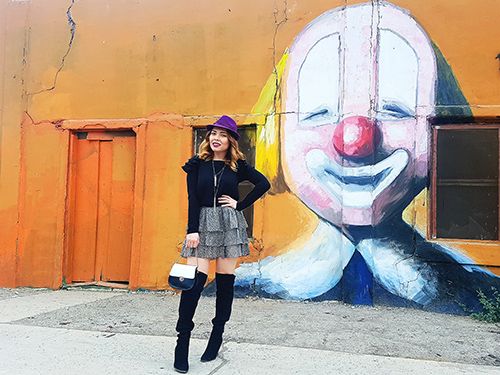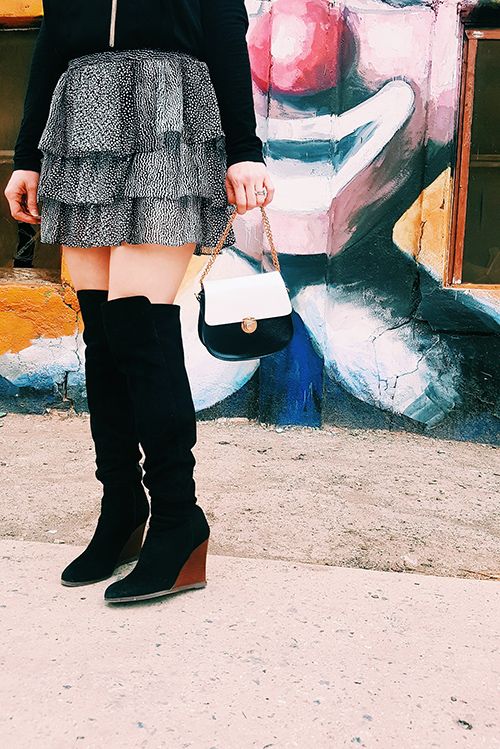 As you can see in this outfit I´m wearing a mini skirt with ruffles and the blouse has the same details on the sleeves, although I wear a neutral color very combined with the skirt and boots, OMG these boots, I love them so much and this is the perfect look fot a mini skirt between winter and spring days; but returning to the outfit, I decided to add the surprise element: the Ultra-Violet hat !, but it can be red, blue, green, the color you like the most; but I chose it in this color, because since for those who do not know yet, the ultra-violet is the color of 2018 marked by Pantone®; however, I will prepare a special post afterwards, where we will only talk about the Ultra-violet color and how to wear it, but you girls can notice how it gives the different touch and enhances the outfit along with the two-tone bag Chloé style that is in trend, which makes a perfect match with the skirt in that print; I love these bags, small but perfect for all occasions. Sweethearts what do you think?, Wouldn't you girls have thought to add the hat, right? Well, my darlings you already have a new idea, so easy. I leave you guys a big hug and with this outfit some pictures for you.
Kisses…Liz.
Don´t miss this Blogs: Keren Cuadras & Gaby Velasco with similar outfits…more chic ideas!
TOTAL LOOK
            Hat (similar) / Top HM / Skirt HM / Boots VINCE CAMUTO / Bag (similar) /         Sunglasses FOREVER21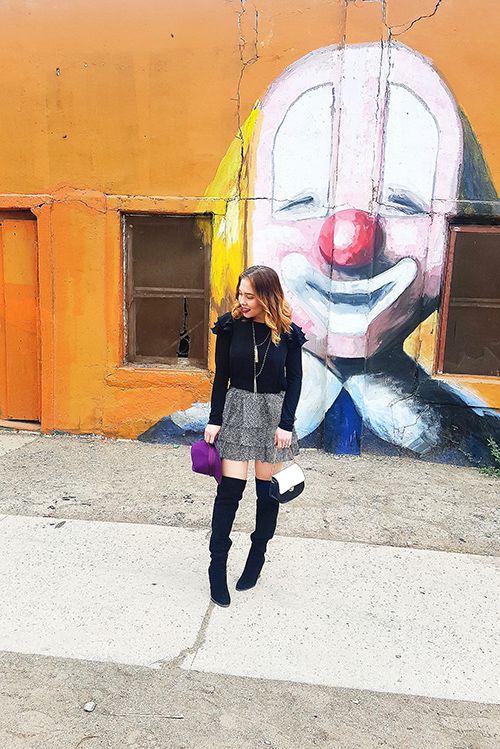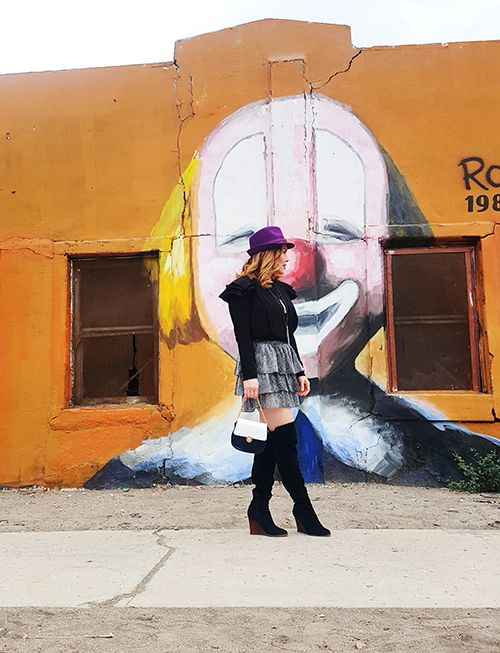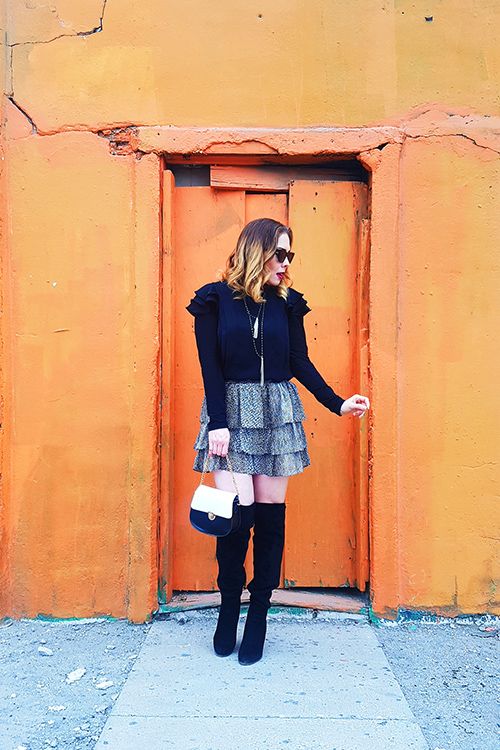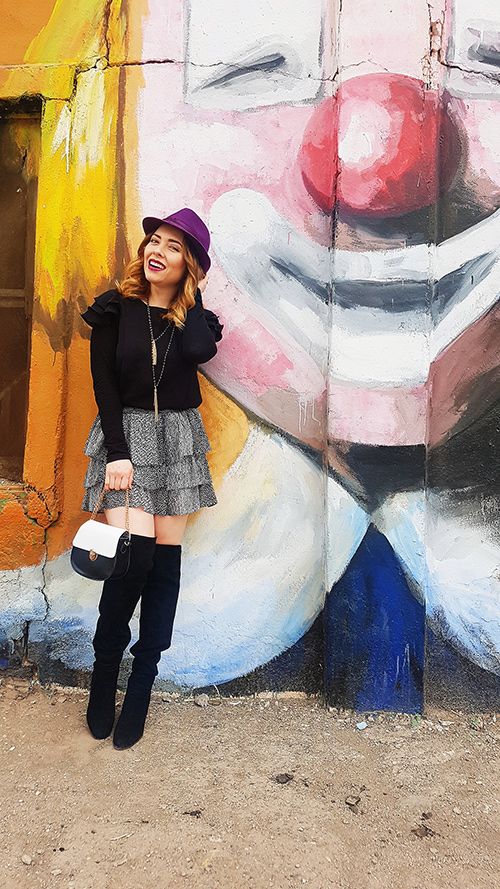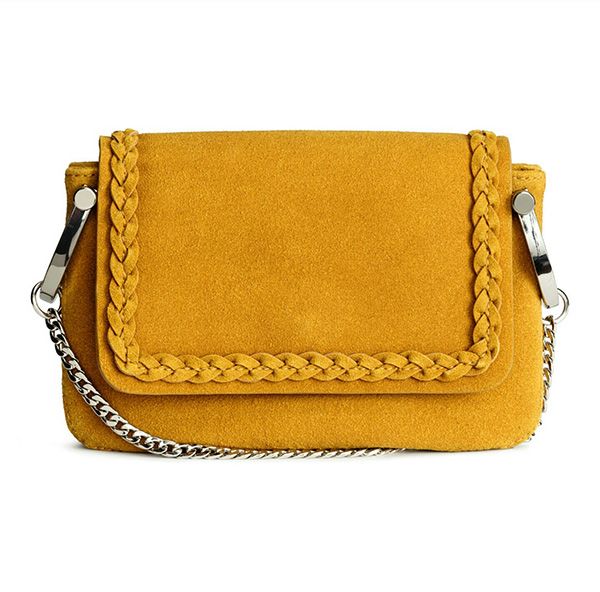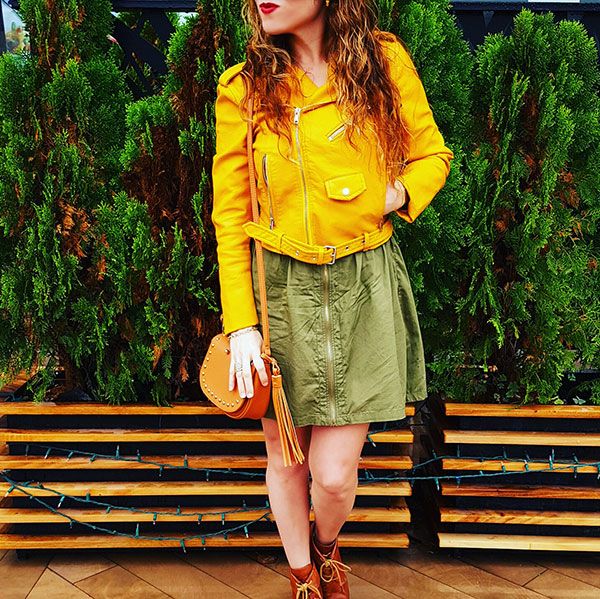 MICHAEL KORS   I   DOLCE & GABBANA  I   ZARA  I   VALENTINO  I   H&M
Todo en mini es parte de lo que veremos esta temporada, sí!, las bolsas tipo cartera de tamaño mini estarán a la orden del día. Ya lo pudimos ver en las propuestas que presentan los diseñadores en sus tiendas y aparadores, desde Valentino hasta ZARA. Estoy segura que las vas amar tanto como yo. Aunque son minis, se han convertido en un must have para todos los días, una pieza que siendo pequeña tiene el espacio perfecto para tus básicos donde quiera que vayas, como diríamos en mi querido México «todo cabe en un jarrito sabiéndolo acomodar». Si eres de las chicas que no les gusta cargar con bolsos grandes, esta será tu mejor opción cuando de pensar en llevar algo chic en tu outfit se trate. En la moda soy un poco universal y la verdad es que amo las bolsas así será uno de mis accesorios favoritos esta temporada. ¿Saben con qué color estoy encantada? con el color mostaza, es uno de los colores que no dejarán de usar se los aseguro.
¿Dónde encontrar estas bellezas fácilmente y a precios súper accesibles? con mis marcas favoritas de batalla diaria:   H&M, ZARA, Bershka, Pull & Bear, Forever 21, C&A, Mango, Stradivarius. ¿Qué opinan de este dicho «Lo bueno siempre viene en envase chiquito? se los dejo a su criterio. Como siempre les mando muchos abrazos. Gracias por leerme.
Besos, Liz.
——————————————————————————————————————————————————————–
Everything in MINI is part of what we will see this season, yes!, the pocket style bag will be the order of the day. We already can see it in the proposals that the designers present in their stores and dressers, from Valentino to ZARA. I´m sure you´re going to love them as much as I am. Although they are too small, these bags have become a MUST-HAVE for every day and have the perfect space for your basics, wherever you go. If you are one of those girls who don´t like to carry large bags, this will be your best choice, thinking about wearing something chic with your outfit. In fashion I´m a universal girl and the truth is that I love bags, so this will be one of my favorite accessories this season. Do you know what color I´m in love with? mustard, is one of those colors that you can´t stop wearing, I´m sure of that!!.
Where to find these beauties easily and at super prices?, you can find them in H&M, ZARA, Bershka, Pull & Bear, Forever21, C&A, Mango, Stradivarius. What do you think about this phrase?: «The good always comes in small package».  As always I send you many hugs.
Kisses…Liz.