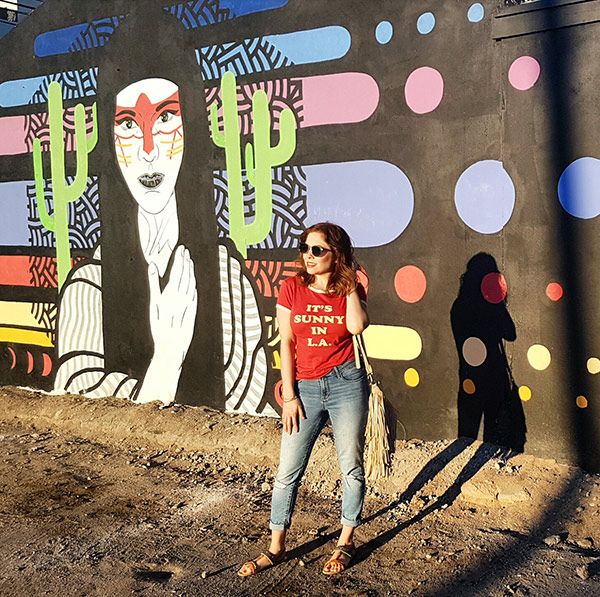 PLAYERA (T-shirt) FOREVER 21   I    JEANS (Pantalones de Mezclilla) OLD NAVY   I   BOLSO (Crossbody) CHARMING CHARLIE
Mis días soleados se vuelven perfectos cuando estoy inspirada definitivamente!!!, se preguntarán por qué pero es que cuando encuentro lugares geniales como este mural lleno de color, pienso que todo vibra con buena energía y todo fluye. No podemos hablar de días soleados y no llevar una T-shirt de acorde a!, este outfit del día lo enmarca esta genial playera, ¿ya se dieron cuenta que las playeras con letreros llamativos y originales están súper de moda? bueno pues será perfecto que tengan una en su closet, esta playera es de FOREVER 21 y la encuentran por menos de $200 pesos, sí!! así como lo oyen. ¿Ya ven que la moda también es accesible? sólo es cuestión de poner atención a las propuestas y tendencias que mejor reflejen nuestra personalidad y listo!. Pueden llevar estas playeras con pantalones de mezclilla rotos y doblarlos de abajo para usarlos tipo pesqueros con unas sandalias, estos son algunos tips y mi propio estilo pero creo se llevan muy bien. Las crossbody son un básico, una opción muy cómoda, esta bolsa en especial creo que nunca pasará de moda con esos flecos alocados. Mitad de semana amores, vamos a llenarnos de color para que la energía nos inspire a todo !!. Como siempre es un placer escribirles y compartir.
Besos…Liz.
————————————————————————————————————————————————————
My sunny days become perfect when I am definitely inspired !!!, you will wonder why but it is that when I find great places like this mural full of color, I think everything vibrates with good energy and everything flows. We can not talk about sunny days and not wearing a T-shirt according to !, this outfit of the day is framed by this great shirt, have you noticed that the t-shirts with flashy and original signs are super fashionable? Well it will be perfect to have one in your closet, this shirt is from FOREVER 21 and you can find it for less than $ 200 pesos, yes !! Just as you hear it. Do you see that fashion is also accessible? It is only a matter of paying attention to the offers and tendencies that best reflect our personality and ready !. You can wear it with ripped jeans, sandals and also you can fold the jeans below. These are some tips and my own style but I think they pair very well. The crossbody bag is a basic, a very comfortable option, this particular bag I think will never go out of style with those crazy fringes. It's already mid-week darlings, let the energy inspires us. As always, it is a pleasure to write and share.
Love…Liz.